8 Kitchen Backsplash Trends for 2017 - Interior Design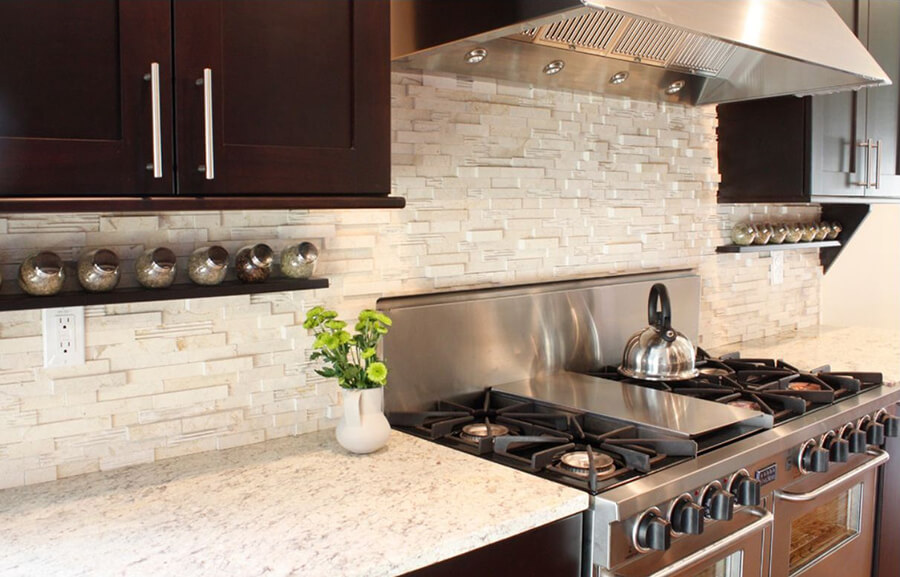 8 Kitchen Backsplash Trends for 2017
Sprucing up your home is a great way to refresh your home decor. You'll have a sense of completion once the project is finished that will bring a sense of joy for time to come. The New Year always brings fresh new styles around the house. Great Pros recently wrote about the 2017 Interior Home Trends, so now we want to get a little more specific with the backsplash trends for the new year.
A backsplash was once only provided for functionality. However, now because there are many different styles, types, colors, and textures that you can incorporate into your home, a backsplash is a wonderful way to show off your design tastes. To get started in choosing the best backsplash for your space, you'll need to decide what type of material matches your style. Choose from one or more of the 8 trending backsplashes listed below. Mix and match materials, select a unique design, and the result will give your kitchen a stunning finish.
Stone - Limestone, concrete, and river rock are some of the most popular stone backsplashes for 2017. The concept brings nature indoors to complement your style whether it's contemporary, modern, or traditional.

---

---

Wood - Interior designers are incorporating natural woods like bamboo to offer a contemporary look which softens the room and adds a feeling of warmth. It is an eco-friendly option that can be styled to resemble long tiles or chevron patterns. Reclaimed wood is another option. It adds a rustic touch to offset stainless steel appliances.
Glass - Recycled glass in tiles or mosaic give an environmentally friendly, yet stunning look. Tiles made of recycled glass are stain resistant and durable, and they come in a wide variety of colors.
Cork - Another sustainable approach that is both functional and gorgeous is cork. Like bamboo, it needs to be properly sealed, but it offers a distinct and stylish look to any kitchen. For kitchens that have stainless steel appliances, this is a perfect choice. It utilizes the "mix and match" concept of materials which is widely popular.
Metal - The use of metal materials paired with soft textures is on the rise. Tin, stainless steel, bronze, and copper come in a wide variety of shapes and styles. Each offers a special muted feel that will transform your kitchen into a beautiful masterpiece.
Marble - Timeless as ever, marble is a classic approach to decorating your kitchen. Best suited with stainless steel appliances, marble is available in decorative tiles or larger slabs.

---

---

Wallpaper - Countertops with built in backsplashes give you the option for a different approach. With so many colors and patterns available, the wallpaper will create a unique focal point that complements your kitchen. Mix in a tin or marble backsplash behind your cooking surfaces and your newly papered walls will provide an elegant addition to your room.
Mirror - For a reflective surface that will make use of natural light and enlarge the sense of the room, tiles with a mirrored finish are a perfect option. Paired with a lighter colored granite countertop, you'll have a noteworthy aesthetic appeal to your workspace.
Different Styles
Now that we've covered what materials are available, we can look at the styles trending this year. The types of backsplashes mentioned above come in a multitude of shapes and sizes. Choose a design style that shows off your artistic capabilities and gives you're your kitchen that "wow" factor.
Long tiles - While the experts may say that the subway tile trend is going away, it is hard not to defend their functionality and eye appeal. Perhaps, the other way to look at it is that they are becoming overused. The traditional 3X6 sized tile is found in many households and has been around for over a century, and for good reason. If you are a fan of the subway tile, then long tiles are the way to go for your remodel. The elongated form changes the shape from traditional to unique but offers the same benefits that you expect from subway tile. For the best look, choose marble, ceramic, glass, or natural wood.

---

---

Geometric Raised Tiles - For a modern or contemporary kitchen, geometric patterns can liven up any area. Raised glass tiles varying in color, or stamped metals arranged in a symmetrical display create a gorgeous expression. Herringbone styles and thin rectangular designs are growing in popularity for a unique finish to your room.
Chevron - The chevron pattern can be a stunning addition to any kitchen. The look can be achieved with square tiles, subway tiles, wallpaper, and even long tiles. Combine your favorite material to create this timeless pattern. Chevron lets you take the traditional look of subway tiles to a new level of elegance.

---

center>

---

Mosaic - Utilizing recycled glass, ceramic tiles, metals or wood, the mosaic look unites colors and textures to form a one-of-a-kind display that will create a luxury kitchen appearance. There is no end of designs and patterns you can come up with when using the mosaic approach.
With your material and design selected, it's time to implement your plan. Within just a day or two, your kitchen will be transformed into an updated architectural delight. You will have refreshed your kitchen and will be in with the trends. Backsplash installations can be done by yourself as a DIY project, or you can find a professional to get the job done. If you go to our kitchen remodel questionnaire and take 2 minutes to fill it out, the professionals on Great Pros will respond to you shortly! Get the conversation started and get free quotes on the project.