Bathroom Shower Tile Ideas - Interior Design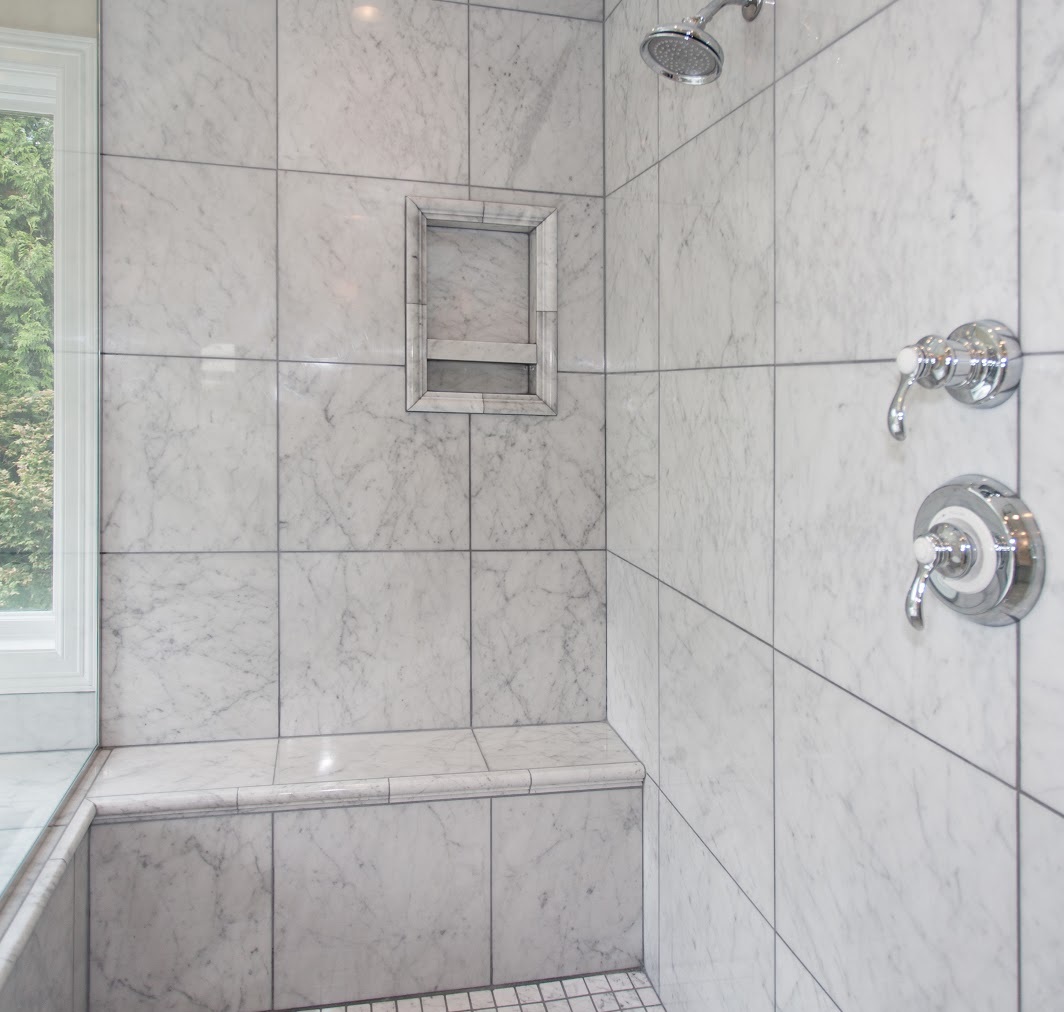 Bathroom Shower Tile Ideas
Multiple things catch your eye when you walk into the bathroom. Some of these may include the type of countertops, the lighting fixtures, or the cabinets. What about the shower? Oftentimes the shower is dull and standard with very little going on. Renovated showers with tiling on the shower wall are huge eye catchers that can give a bathroom that "wow factor"! There are a couple of things to consider… What kind of tile should I choose for the shower, how much is it going to cost, and is this a DIY project or should I hire a pro?
Different Shower Tile Ideas
Mosaic tiles - Mosaic tiles in a shower can be a great option. The shower is typically a pretty small area, but mosaic patterns can trick the mind into it feeling like a larger area because of the different patterns. Another positive is that there are many different colors and designs to choose from.

---

---

Subway tiles - Subway tiles are commonly seen in kitchen backsplashes, but they can look great in the shower as well. Most of the time the same color of subway tiles are used, but some homeowners like to be creative and add some different color tiles into the mix.

---

---

Natural stones - There is a lot that can be done with natural stone tiles. It is relatively common to see 12 x 12 slabs of marble or granite, but some people spend large sums of money for full stone cutouts to the wall.

---

---
How much does it cost to tile shower walls?
For a medium size shower, the price to get everything completed could cost about $2,000. On average, you can expect to pay about $25 per square foot, plus the cost to have it installed. There are also a few tile installation materials listed below that included in the cost.
Cement backer board - $10 per sheet

---

RedGard waterproofing and crack prevention membrane - $50

---

---

Adhesive materials - $50

---

Trim and bullnose cap and edge tiles - $200

---

Thinset and grout - $50
Keep in mind, there is a large range in cost when getting tiling in your shower. Here at Great Pros, we have bathroom remodeling contractors who are ready to give you a free price quote on the job. Just let them know what you need completing, and they'll reach out to you within minutes.
Cost of the materials - The cost of the materials that are being used for the job is the number one biggest factor for how much the total project will be. Some of the cheaper tiles are $0.50/sf, while other types of tiles can be as high as $57/sf.

---

Labor costs - Contractors typically charge $10-$15 per square foot to install new bathroom tiles. If you find someone who will do it for a cheaper price, you should ask for pictures of their past work to make sure that they have done this before. If you go through one of the contractors on Great Pros, we ensure that they will be licensed, bonded, and insured and guaranteed to do a great job.

---

Tile removal - If there is the existing tile that needs to be removed, you will be paying a couple hundred dollars extra to have this done.
Can this be a DIY project, or should I hire a professional?
If you choose to make tiling a shower wall a DIY project, you are obviously going to save a little money, but there is the risk of not doing the job correctly the first time. If you mess up, it is going to be even more expensive to fix! By hiring a professional, you have the sense of security that they will get the job done right. We have great contractors who are ready to help. Take 2 minutes to let us know what you need done and we'll get you some free price quotes right away.