How Much Does it Cost to Build a House? - The First Steps to Building a House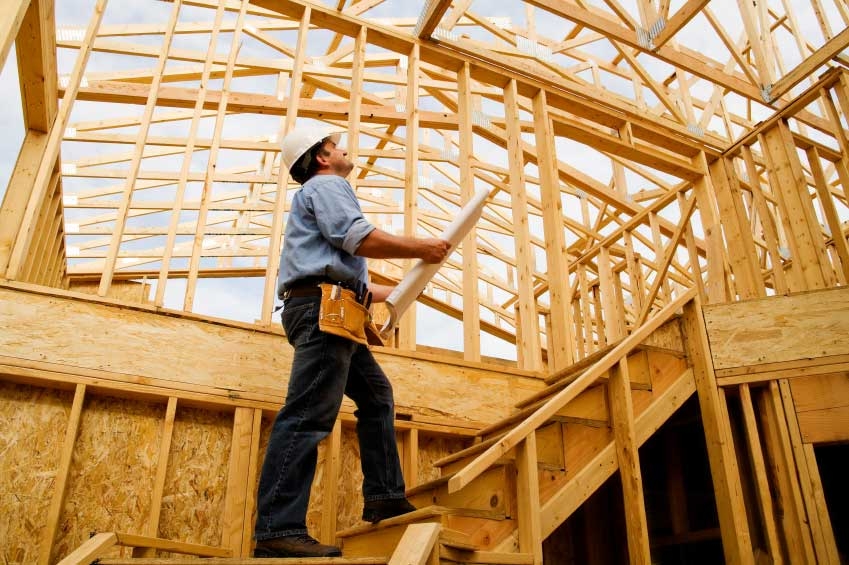 How Much Does it Cost to Build a House?
Building your own home gives you full creative control over the look of your house and ensures your living space is exactly the way you want it – but it certainly doesn't come cheap. Because there are so many factors to consider when planning your housing budget, you might find it difficult to figure out just how much building your own home costs.
Our handy guide will tell you everything you need to know about creating a housing budget, including the average cost per square foot to build a house, labor and material costs, and other cost factors you should consider.
---
---
New Home Construction Costs
The cost to build your new home will depend on several factors, including how many bedrooms and bathrooms you plan to build, the style and size of your home, whether or not it's custom, modular, or prefabricated, and whether or not you already own the land.
Some future homeowners will pay as low as $15,870 to build their home, while others might pay as much as $700,000. Most people pay between $150,000 and $425,000. The average cost per square foot to build a house is about $150. Again, this price will vary based on the materials used, size of the house, and labor costs.
---
Custom Home Building Costs
Expect to spend a pretty penny if you want to build a custom house. These usually cost anywhere between $350,000 and $1 million. In addition to labor and material costs, you will also need to hire a residential architect. This usually account for 5% - 15% of the total housing budget. The average cost per square foot to build a custom house can range anywhere from $100 to $400.
---
---
Prices of Materials
You will need to purchase the materials to build the house, in addition to footing the bill for the machinery and professionals required. These prices will depend on the environment you choose to build in as well. New homes built on rocky or uneven terrain will incur higher building costs. Most homeowners spend approximately 25% of their housing budget on materials.
Want prices that are local to Arizona? We can help with that. Just give us the details of your building project, and we'll provide you with a custom quote from our local, licensed professionals.
---
Labor Costs
Typically, 25% of the housing budget will go toward labor costs. Let's break that figure down.
Residential architects charge anywhere from $60 to $125 per hour. You'll typically pay $100 to $150 an hour for an engineer's services, and hiring a land surveyor will cost you a $300 to $700 per hour.
Here's a quick rundown of the average costs to build each area of the new home:
Foundation: $4,000 to $12,000
Framing: $1,500 to $6,500
Exterior: $40,000 to $60,000
Plumbing, electrical, and HVAC: $30,000 to $50,000
Interior (includes insulation/drywall, décor, lighting, etc.): $85,000 and up
---
Additional Things to Consider
Here are some questions you should ask yourself when budgeting for your new built home:
What about the land? The first step to building a new home is sorting out the land. Do you own the land? Do you have permission to develop the land? Is there any difficult terrain to work around? If you purchased your own lot, do you need to hire someone to clean it and prepare it for building? Figure
How many stories do I plan to build? More floors equal more cost. Bungalows and single-story homes are much cheaper than homes with two or more floors.
What type of roof do I want? Avoid skimping on the roofing costs. You will need something durable and lasting. Asphalt roofing is the standard, and cheapest, option. Specialty roofing that fits your home's aesthetic style will cost more.
What about the appliances? New appliances and furnishings for your home aren't included in any of the costs we've provided above. Don't forget to add these costs to your housing budget.
What about the décor? Remember to add the costs of things like cabinets, countertops, trim and molding, and flooring to your budget.
Do I want any extra features? Adding a pool, patio, porch, or similar structure will incur additional building costs. These features are great for increasing the value of the home as well as your own happiness, but they certainly don't come cheap. If you would like any of these extras for your new home, be sure to include these costs in your overall budget.
---
GreatPros is Here to Help
Building a new house is an exciting, although expensive, venture. Need some help planning your new home construction? GreatPros has got your back. All you need to do is give us some information on your project, and we'll connect you to vetted Arizona contractors at no charge or obligation to you.