How to Design a Modern Living Room – Interior Design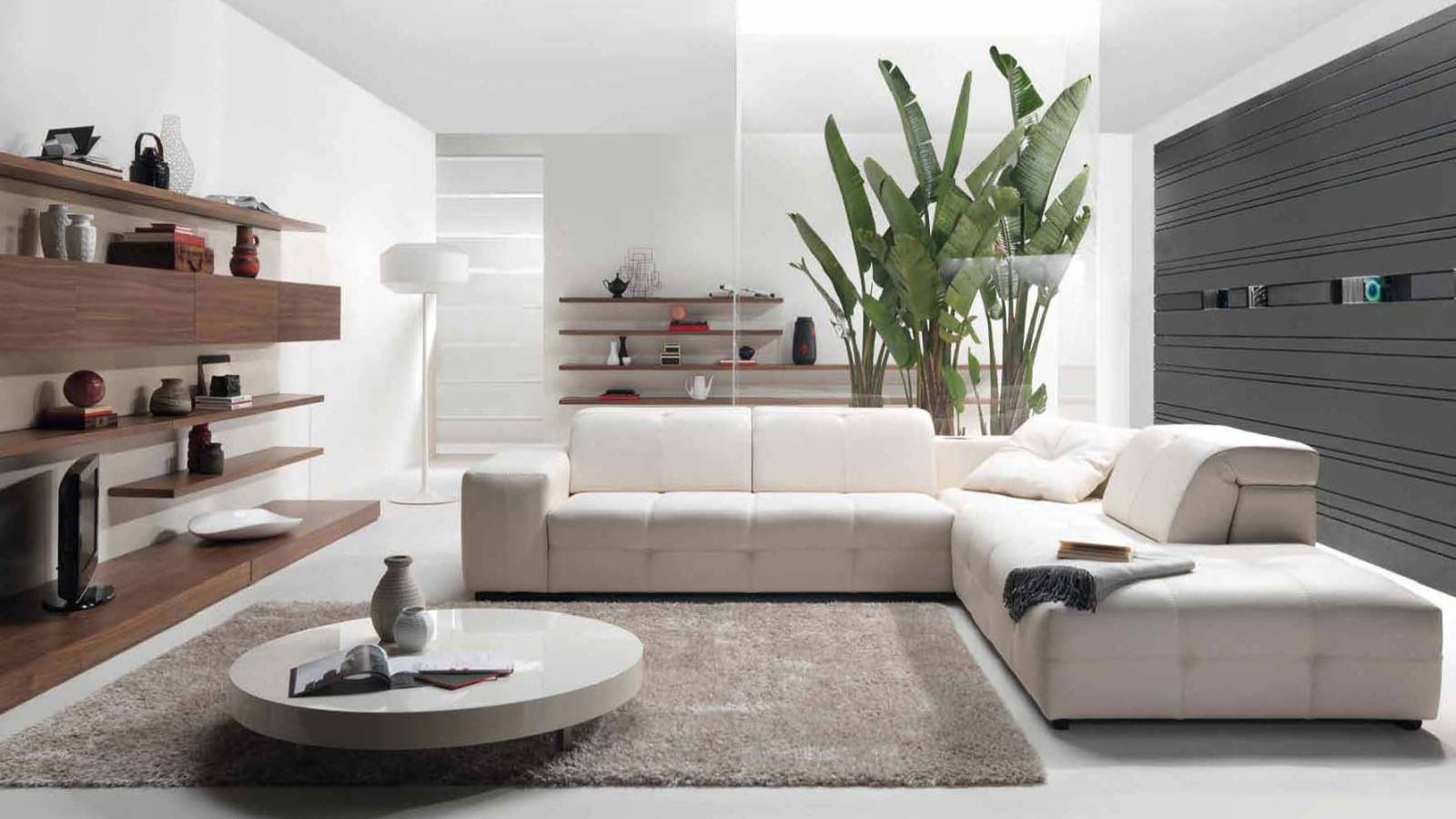 Modern Living Room – Interior Design
For most people, the living room is the center of a home's activities. It is a place to entertain, socialize and host guests, or simply a place to relax with the family. Creating a room that you will want to spend your time it is important for the entire flow of your household.
A modernized living room can serve a variety of functions, from casual living spaces to formal sitting areas, and everything in-between. When you start to browse modern living room designs, think about how you and your family will utilize the space. Start by focusing on staple items such as a sofa or a coffee table, then expand towards your accent furniture and décor.
---
---
What Makes a Living Room Modern?
Modern living room design is highly recognizable for its clean and airy interiors. Natural materials such as linen, teak, leather, and wood are especially prominent. Plastic and molded plywood has also gained popularity over the years, along with polished metal. Furniture remains open and is raised off the ground to give a fluid and airy feeling.
Openness and natural light are imperative to modern living room design. Large windows and wide-open space are all but a staple. Walls are often painted white to add to the expansive feeling, while floors are typically kept bare. If an area rug is used, wool and neutral colors are a traditional pallet.
Smaller living room options may take some more creativity. Implement reflective surfaces such as mirrors and glossy paints. Use tricks of the eye to make the room appear larger, such as mirrors on opposite sides of each other. You can even go as far as removing walls and doors to create a larger, welcoming place to site in. Avoid harsh lighting, as it will make the space feel unnatural. If lighting is a must, use softer options.
---
---
How You Can Make Your Living Room Modern
When it comes down to modern living room furniture and designs, there aren't really any hard-fast rules. Depending on the use of your living space, you want your living room to be comfortable, but also extremely functional for daily living.
Modern living room décor is mainly focused around neutral colors, quality products, and bold pieces. White walls create a beautiful backdrop for modern décor. With white, you are able to integrate a unique use of patterns. Choosing a single color scheme and sticking to it will help create a statement and maintain a clean and airy openness. Exposed ceiling lights and bookshelves can also help with this ambiance.
If you have the option, integrate large windows with an open floor plan. The most important thing with a modern living room look is to not cramp the room. Avoid clutter while incorporating very bold, horizontal lines. If you have the space, it is possible to pack a lot such as a large sofas and area rugs, but you will want to try and keep your modern living room furniture to a minimum. Deciding on what you want to do most in your living room will help you make these decisions.
A large eye-catching unique piece or several smaller pieces are key in modern living room design and décor. Incorporate imaginative and natural looking art to leave your guests dreaming of the adventures you may go on to pick up such treasures. Sanded floors can add to a more contemporary and fresh look, and would benefit from a modern rug that matches perfectly with your color scheme.
---
---
Modern Living Room Essentials and Tips
One of the most important elements of a modern living room is establishing an overall feeling of openness and light. You want to encourage the eye to focus on the sweet spots of your design and gloss over everything else. Here are the essential ingredients.
Inviting. This is the piece that draws you into a room. This could be a sculptural coffee table, lively fabric, or a dramatic cowhide rug.
Cozy. These are the accents that all but beg you to stay; the welcoming lush sofa, or the soft cashmere throw.
Eye-lifting. This is what creates a height and frame for everything else in your living room. These are your tall windows, long curtains, or thin decorative pieces.
Wow object. This refers to the loudest, largest, or shiniest piece that stands out in your room. It deserves the most focal location. Think a large mirror over the fireplace or an impressive painting over your sofa.
Weird thing. This is the sculptor or accent piece that prompts all of your guests to ask, "What is that?" or "Where on Earth did you find that". Think a large decorative object that gives the feeling of a faraway place or time, or choose small pieces placed strategically throughout the room, leading the eye from one object to the next.
Personal mementos. These are your significant real-life photos, sentimental objects, and books that you have actually read. Group them together throughout the room.
Natural elements. This is what will add life, texture, and color to your space. Choose plants, dried flowers, wood chips, or other earthy feelings. Place these on the ends of tables, on shelves, or on the ground where they can be seen.
Finishers. This is what fills up the rest of your space, typically your signs of life in your room. A tray on the coffee table, a stack of books, your glasses, or a cup of coffee. Because, of course, what really makes a room complete are the people that live in it.
---
---
How Great Pros Can Help
Your living room is where you and your family will spend most of your lives, so it's important to get it just right. If you need some help with your modern living room ideas, fill out our simple questionnaire. Great Pros will help you get connected with qualified and licensed consultants and contractors in your area. Compare profiles and prices to get the best price on your project!
---