How to Paint a Garage Door with Gel Stain - Cheap and Easy DIY to Increase Curb Appeal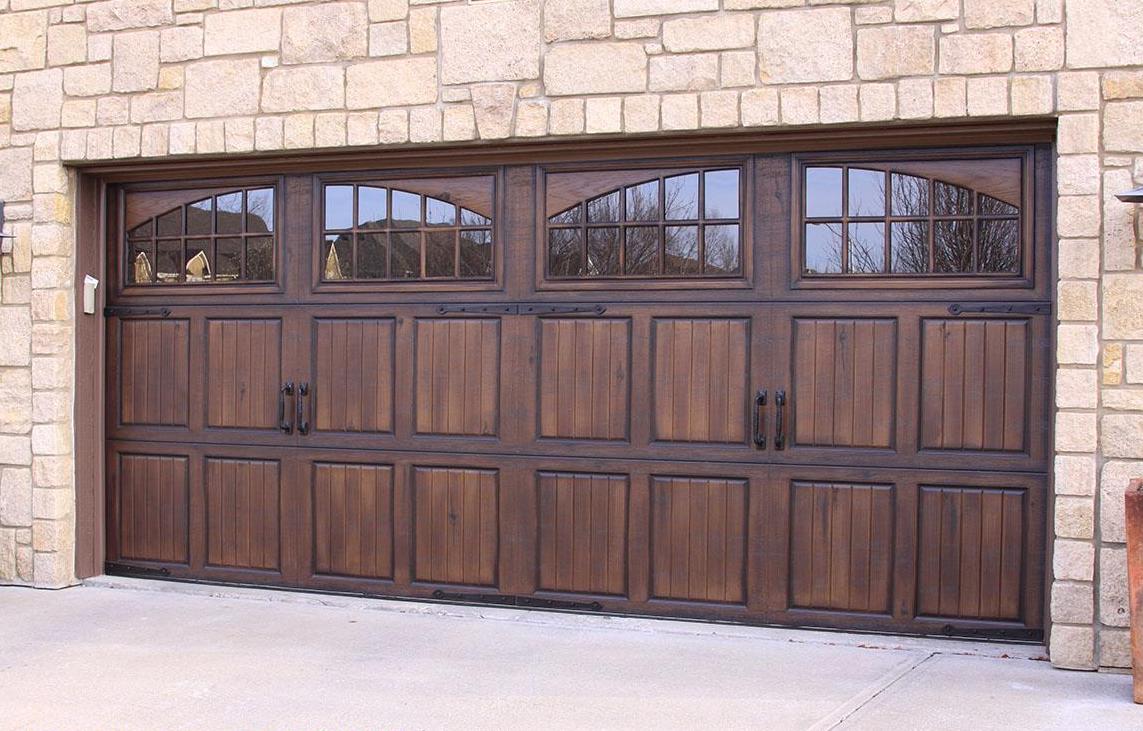 How to Paint a Garage Door with Gel Stain - Cheap and Easy DIY
You've heard about staining your kitchen cabinets and other wood furnishings in your home, but did you know you can even stain your garage door with a faux wood paint? Breathe some new life into your worn-out garage door with a coat of gel stain. Applying a gel stain is one of the easiest and cheapest garage makeovers you can do yourself, and it's also a great way to enhance your curb appeal.
---
---
Materials
Here's what you'll need for staining your garage doors.
Quart of faux wood gel stain
Brushes (2-3 inches will suffice)
Drop cloth, tarp, or old sheets
Paint tray
Gloves and washcloths
Sandpaper (for rust spots and removing glaze)
---
---
Cost
A quart of Minwax Gel Stain from Home Depot will set you back a mere $15.76. A set of three high-quality paintbrushes, ranging from two to three inches, is only $9. A set of three paint trays is only $3, and you'll only pay $4 and some change for a packet of sandpaper if you need it. You can also snag a drop cloth for $5.
All told, this project should cost you just over $35 – a steal compared to the hefty price of installing a genuine wood garage door.
---
---
Step-by-Step Process
Staining your garage door will take approximately 3 hours from start to finish, with an added 48 hours maximum for drying time, making it perfect for a weekend DIY project.
Sand away any glazed paint or rust spots, if there are any.
Use a pressure washer and soap to remove all dirt from the door. Let door dry completely before starting.
Add a small amount of stain to the garage door as a color test. Let dry completely so you can determine whether you're satisfied with the color.
Lay down the drop cloth, tarp, or sheet to protect the driveway.
Once satisfied, add the gel stain to the paint tray and begin staining. When brushing, work on each section of the door at a time, and try to mimic the direction of natural wood grain. Or you can follow the direction of the garage door pattern.
Gel stain usually dries very quickly, especially on a sunny day. However, the garage door will need to sit for up to 48 hours to allow the stain to dry completely.
One coat of stain will usually suffice for most garage doors. However, you can apply a second coat after the first has dried if you need to.
---
---
Applying a gel stain to your garage door is a great way to hide those unsightly scuff marks and other evidence of general wear and tear. This is an easy and cheap DIY that can enhance your curb appeal and better match the style of your home.
Got a bigger project you need help with? Let Great Pros help you find a licensed and insured contractor in your area! Give us the specific details on your project, and we'll connect you to the best contractor for your needs. There is never pressure to buy when you use our free service.