How to Style Your Home Office - Office Interior Design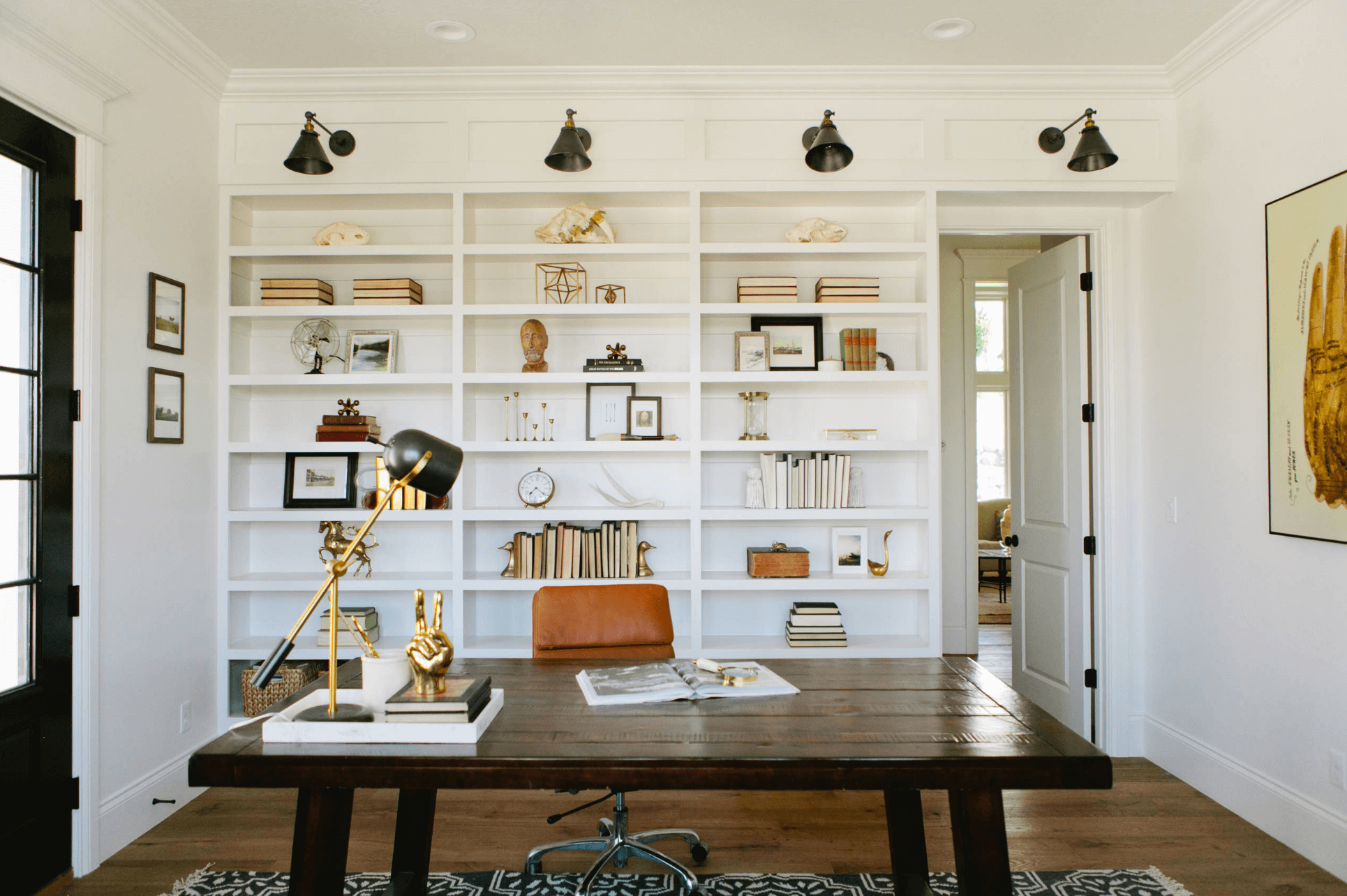 How to Style Your Home Office - Office Interior Design
Getting to work from home is an awesome perk, but how do you create a space that isn't as drab as a cubicle? Whether you work entirely from home, bring tasks from the office to your house to finish up, or conduct the occasional family scheduling and bill pay, the appeal, and functionality of your home office design will influence whether you are engaged and productive…or not.
While some think it is a trivial claim, the visual environment that surrounds you while you work can and does affect your energy levels and productivity. If you're tired of your blank walls, uncomfortable fluorescent lighting, and cheap chairs, follow along for our best collection of office interior design ideas to inspire even the simplest of spaces.
---
How to Style an In-Home Office
Working from home has a ton of upsides – no commute, better work-life balance, and of course, the ability to design an office that you love. Read on for tips on transforming your workspace into the ultimate home office: one that makes you crazy productive, and happy too.
---
---
Work with Your Small Space
When you live in a small house or apartment, you need to use all of the space that you can. A simple niche can become a place that showcases a loft bed and a compact office space underneath. If the room lacks ample space for storage, a couple of vintage wooden boxes can be used to store paperwork and magazines.
---
Location is Everything
If you plan on working from home, you will very well spend hours in your office; so don't cut you short on space (e.g. choosing a windowless closet over rarely used guest room). Consider distractions and your ability to withstand them. Your office should be quiet, comfortable, and free of heavy traffic. If at any point you will have clients stopping by, ample seating is a must.
---
Embrace Natural Light
We all know how discerning a dark cubicle can be to your productivity, especially on a beautiful day. If you can, bring some of that joyous sunshine inside by placing your desk near an open window. Natural light and an awesome view of the outdoors will help keep your moods light and cheery throughout your workday and who knows, you may be inspired to take a short walk on one of your self-scheduled breaks!
---
---
Create a Soothing Oasis
The key to your home office interior design is to create a space that you will want to spend time in. If working at home is all about comfort for you, try soothing colors like neutrals or lighter gray tones. A wool rug and cashmere throw could be the perfect inspiration to nestle down for a long day at the "office". Try adding a touch of glamour into the mix with a faceted mirror or sparkling pillow.
---
Master of Storage
While some homeowners are privileged with large rooms that could resemble full offices themselves, many home offices aren't swimming with square footage, so utilizing space wisely is imperative. Move office equipment and papers off of the floor with floating shelves, and use vertical desk storage or drawers to keep important papers within reach. Metal and cubed storage is a fun and interesting alternative to standard bookshelves, since each cube can be used for baskets, knickknacks, books, as well as odds and ends.
---
---
Mix Things Up with Home Office Accessories
Your home office design ideas are your opportunity to create the work environment you've always dreamed of, so don't be afraid to integrate fun patterns, intriguing artwork, and cool knickknacks. Get creative with organization, furniture, and lighting to create a space that is totally unique to you.
1. Ditch the Corporate Artwork
You know what we're talking about - prepackaged corporate art (three people at sunset rowing a canoe with a "teamwork" caption). Awesome offices are the most authentic, not cookie-cutter motivational billboards. This is your home office, so find things that you like: a placement of books you've always wanted to read, photograph pin-ups of your family, frames of your favorite comics, a beautiful painting, or anything else that shows your personality and keeps you motivated.
2. Weird Desk Accessories
Quirky objects are a great way to add some humor to your day, and they are typically on the cheaper end. Pick up a couple objects that make you smile or even laugh out loud - plus they'll be some great conversation starters for any of your clients who stop by.
---
---
3. Bulletin Boards
Bulletin boards can be a great place to throw up a few personal pictures, your kid's artwork, funny pins, or maps of places that you've been or always wanted to visit. Make this space your own by wrapping yours in a patterned fabric, or tacking up a fun "bucket list" instead of "to do list" – you know, to remind yourself why you are working so hard.
4. Bring Something to Life
Plants are a great way to add some life to your room. If you're not confident in your ability to grow something from a seed, try something low-maintenance like a cactus or succulent. Just remember to let in plenty of natural light, so you and your plants can thrive.
5. Take Risks: Your home is the perfect opportunity to add a little something that would have never been allowed at the office. Don't be afraid to make some unexpected additions; a chalkboard calendar, a crystal chandelier, funky lighting accessories, a sound system for relaxing music, or an espresso bar and a mini fridge! Whatever get's you motivated to work, is fair game.
---
How Great Pros Can Help
Whether your home office is used for a personal business, bill pay, or catching up on emails, it's important to create a space that is both comfortable as inviting.
If you need help with your office design ideas, Great Pros is here to help. Simply fill out our 2-minute-questionnaire to get connected with licensed and qualified contractors in your area. Easily compare profiles and receive free quotes to get the best price on your upcoming project.
---