How to Style a Small Bedroom - Small Bedroom Design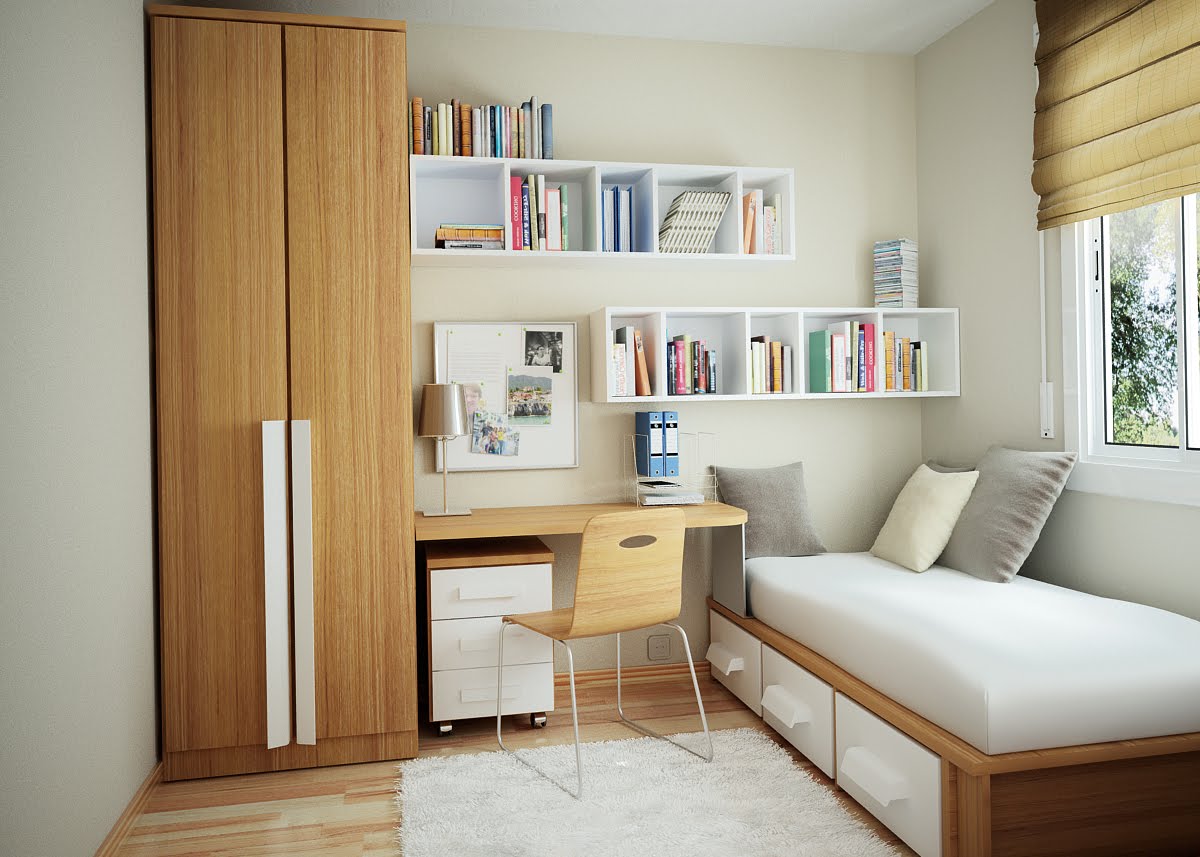 Small Bedroom Design
Smaller bedrooms can be rather tricky to decorate. They often end up as forgotten spaces with little to no personality, because we're just not sure what to do with it. Conversely, spare bedrooms can also end up as a dumping ground for storage.
While a standard master bedroom can accommodate a full chest or drawers, a second and third bedroom may only allow for a bed and not much else. So how do you make the most of every inch, in a way that is both functional and stylish? Here are the do's and don'ts for small bedroom design.
---
How to Make Your Small Room Seem Bigger
---
Implement a Hotel Style
---
---
Tiny rooms are common in many boutique hotels, yet guests don't seem to notice since the rooms are so well decorated. Go for a scaled-down luxury look with multiple throws, plush pillows, and a padded headboard. If you can, try to fit in small bedside shelves so your guest has a place to set down a morning cup.
---
Customize the Headboard
---
---
Don't be afraid to customize your headboard. Unique shapes or built-in storage makes an appealing use of limited space while still preserving an open feel.
---
Times it By Two
---
---
Don't assume that your space is too tiny for two beds. Even small rooms can accommodate extra-narrow designs. Try implementing built-in drawers underneath to account for guest luggage.
---
Be Bold
---
---
Contrary to popular belief, dark, bold colors do work in smaller spaces. Embrace a cozy room with sensual, dark, and moody colors. On the other hand, interject life and energy with bright hues. Just don't pick too many colors or the room will feel busy.
---
Add a Wall Feature
---
---
Painting all of the walls in your room the same color can exaggerate the boxy feeling. Instead, add a focal point with an interesting paint effect, textured paneling, or lux paper. Although your room is compact, keep in mind that it doesn't have to and shouldn't be featureless.
---
Multi-Function Design
---
---
Dual purposing is your friend in small bedroom design ideas. Try utilizing a bookcase as a headboard or a desk as a bed. In general, custom might be the answer for the space that you have. Talk to a carpenter about your exact dimensions and needs to work out the possibilities.
---
Brighten with Paint
---
---
If your room is dark and small, try brightening it with paint. Bright colors can mimic the feeling of natural light, in addition to giving your room a warm and welcoming feeling. If your ceilings are low use one color over the trim and baseboards, making the room appear taller. Implement a shade or two darker on the ceiling to help elongate the room. Pair with ceiling lights for a dramatic effect.
---
Use Mirrors
---
---
This is one of the oldest tricks in the book, but it has stuck around because it actually works. A mirrored closest or mirrors across from each other on the walls will aid in widening your smaller room. Be sure that your room is chic, simple, and tidy enough to reflect or any clutter will look twice as terrible!
---
Don't Under-Decorate
---
---
One of the most difficult temptations to curb is holding back on decorating. But this can cause your room to look undersigned and dull, further adding to its small room feel. Don't be afraid to use "big room" elements, such as pictures on the wall, decorative lighting, and rugs. The result will be "proper" room feel, doubling as a cozy retreat you will enjoy escaping to.
---
Small Bedroom Storage Ideas
The best way to get the most out of your small bedroom design is to do more with less stuff. Do your best to de-clutter and pare down without taking away from the design elements. This may sound simple to some, but what do you with all of your stuff? Here are some smart ways to fit more storage into your bedroom without feeling too cramped.
Maximize under the bed space. Although some design experts absolutely cringe at putting things under your bed, it is simply one of the easiest and smartest ways to add a whole area of storage. Do this by purchasing storage best, or DIY for a custom fit.
Bring it off the floors. It's easier to run out of space on the ground, and most people don't even consider the fact that they four walls of additional space! Build an attractive wall shelf and decrease the need to tablespace or bookshelf space. In very small rooms wall shelves can double as a nightstand and even a bookshelf.
Dual-purpose your furniture. Use a small storage cabinet instead of a traditional table, a floating door instead of a shelf. Focus on streamlining storage spaces into furniture wherever you can.
Splurge on a wardrobe wall. Although it isn't the cheapest of options, installing shallow wardrobes along the wall can compliment the cozy feeling of your room while adding storage. This pairs better than bulky furniture and lighter colors can help fight any claustrophobic feelings.
Organize like a pro. One of the most vital components of small bedroom ideas and design are maintaining organization. Tidiness and cleanliness is key to making these looks work in your favor. Taking the extra time to properly fold and store clothing is going to keep your room the cozy oasis you set out for it to be.
Utilize unused closet space. Do you feel like your closet is organized to the best of your ability? Are you using every inch of storage space available? If you are renting, you may be hesitant to drill a lot of holes for new shelves, but you do have access to super storage tools such as closet organizers, over the door hangers, and clothing rods.
---
How Great Pros Can Help
Are you struggling with small bedroom ideas? Don't be afraid to seek professional help! If you need some help with your small bedroom design, simply fill out our simple questionnaire. Great Pros will help you get connected with qualified and licensed consultants and contractors in your area. Compare profiles and prices to get the best price on your project!
---