Inspirational Dining Room Designs and Essentials 2017 - Dining Room Design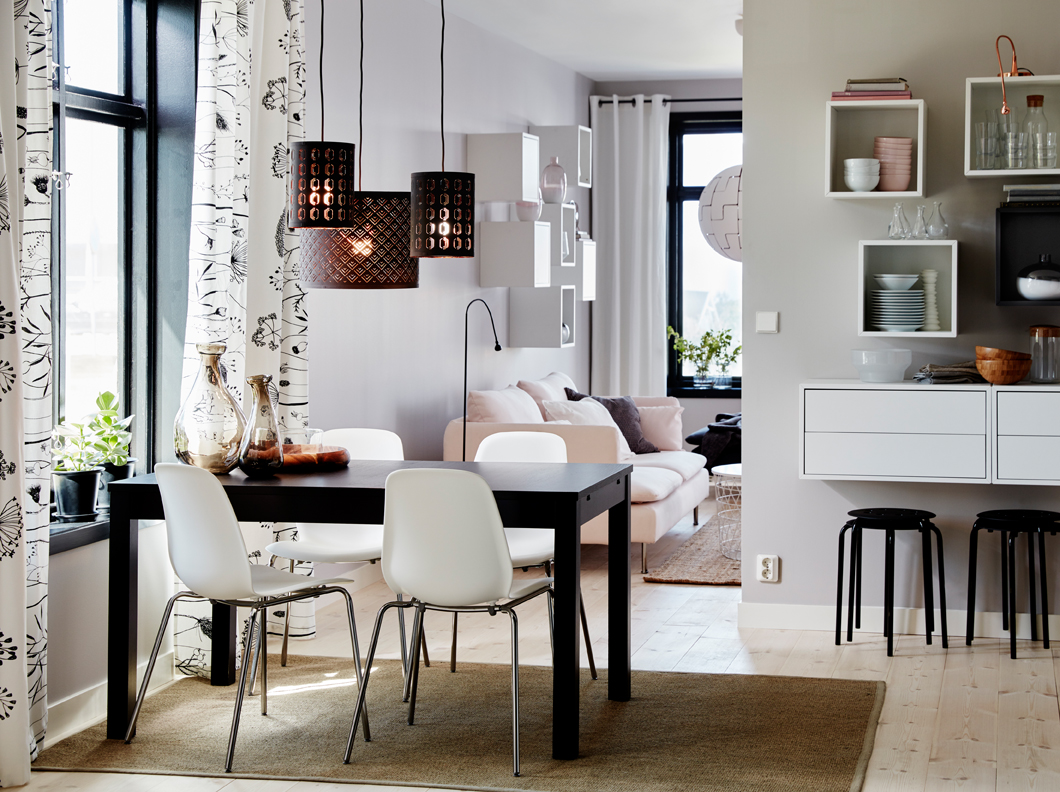 Dining Room Design – Inspirational Dining Room Designs and Essentials 2017
In contrary to a multi-functioning room, such as a kitchen or a living room, your dining is a simple space devoted to comfort and conversation.
Rather than the focus around useful and utilitarian features, this space revolves around hosting guests and feasting with family. Not used as frequently as other living quarters, the dining room is typically viewed as a place for special occasion, merriment, and entertainment.
Although simpler in nature, your dining room design must be met with care and consideration, perhaps even more so than many of your other rooms. Consider what types of decorative dining room ideas, accents, and furniture, will transform your space to a mecca for entertainment and celebrations.
---
---
Standard Dining Room Layout
Although dining room styles, furniture, and table settings are available in all types of sizes and shapes, there are a few key components you will want to consider when you enter the planning stages of your dining room design.
How will you use your dining space; intimate family meals, special celebrations, entertainment, or all of the above? How much time will you spend in your dining room? How many people does your dining room need to host? What will be your dining room design layout? What kinds of dining room sets are you drawn to?
Although there are a plethora of things to consider, from standard tables, leaf accommodations, table shapes and sizes, table setting, and chairs, there are some standard dining room layout best practices to keep in mind.
If at any point you are going to need to dine more than just your family, you will want to ensure that your visitors aren't going to be clashing elbows at the table. Each person dining at your table should sit comfortably with at least two feet of space to enjoy meals and other activities.
No matter what style and size of the table that you choose, you ensure that your table has ample amount of navigating room. Try to save at least 42 to 48 inches between your table-to-wall clearances. If you have additional furniture in your dining space, measure from the table to the start of your other pieces for the best use of your dining space.
---
---
Dining Room Essentials
If you speak with a dozen interior designers or architects for their opinions on dining room design, you are bound to get a myriad of different answers. Some may prefer casual dining space for everyday meals, while others might adhere to the concept of traditional and finely decorated seclusions.
When it comes to determining your dining room's essentials, the core question remains: How are you going to utilize your dining room space?
When you start planning the decorating and design of your dining room, it's important to keep in mind that this space should be primarily simple in nature. However, this doesn't mean you have to stay plain, in fact, you should feel free to make some stylistic autonomy.
---
---
The Key Considerations for Every Dining Room:
Ample amount of dining and moving space. Consider the size of the table, how much room your guests have to pull out chairs, walking space around your table, and other furniture pieces your dining room may require.
Traditional or contemporary use. How will you use your dining room? Depending on your lifestyle and size of the home, your dining room might be an everyday place to enjoy meals with the family, others might consider the dining room a place for special occasions only.
Adjustable lighting. This is almost essential for any dining room experience, necessary to set the appropriate mood for your different use cases. You might utilize a low setting for a date night or an intimate family meal, while other celebrations might require a more joyful, bright lights.
---
---
6 Different types of Dining Room Design
Mid-Century Modern – This mid-1900s look is known for producing some of today's most iconic pieces. It is characterized by naturalistic shapes, minimalist silhouettes, and refined lines. Try smooth modern chair shapes with open bottoms, rather than traditional square shapes. Get creative with a pop of bright colors and minimalistic table settings.
Farmhouse – This approach is mostly transitional in nature and paired with more traditional looking elements. Farmhouse and cabin aesthetics should transport you to inspired French Provence design. Characterized by upholstered linen and distressed wood, this theme sits cleanly within soothing whites and beiges. Transition into orthodox yellows or turquoise or introduce brighter colors for definition and pop.
Industrial – This look emphasizes steel and wooden elements, frequently complemented by brick walls. A common variant includes copper tones, while the overall feel is rustic and mature. Use table settings that emphasize copper and steel, while reserving your wooden pieces for tables and accents.
Urban Modern – This interior design stems from major city lofts. Cues from cosmopolitan environments fused with opposing yet complementary traits, such as geometric designs and traditional embellishments, are what this look represents. Don't be afraid to use larger furniture pieces with a sleek, low profile. Modern and decorative accents often bode well in demanding creative and artistic expression.
Bohemian – Bohemian decor captures the adventurous and carefree spirit of an avant-garde style of life. Rich colors are often paired with organic materials and textiles, possessing a nomadic vibe. These dining room sets are all of about casual comfort. Perhaps more of an everyday setting, this look is popularly paired with textile, wood, and animal hide accents.
Victorian – This is how you would view your most traditional dining room experience. Elegant rectangle pieces are often paired with finer dining room accents. Fine China and expensive linen is often utilized for these table settings and reserved for only the rarest and special occasions.
---
How Great Pros Can Help
Your dining room is one of the most important rooms you will decorate in your home. If you need some help with your dining room ideas, fill out our simple questionnaire. Great Pros will help you get connected with qualified and licensed consultants and contractors in your area. Compare profiles and prices to get the best price on your project!
---