Kitchen Cabinet Guide - Prices, Materials, Installations, Repairs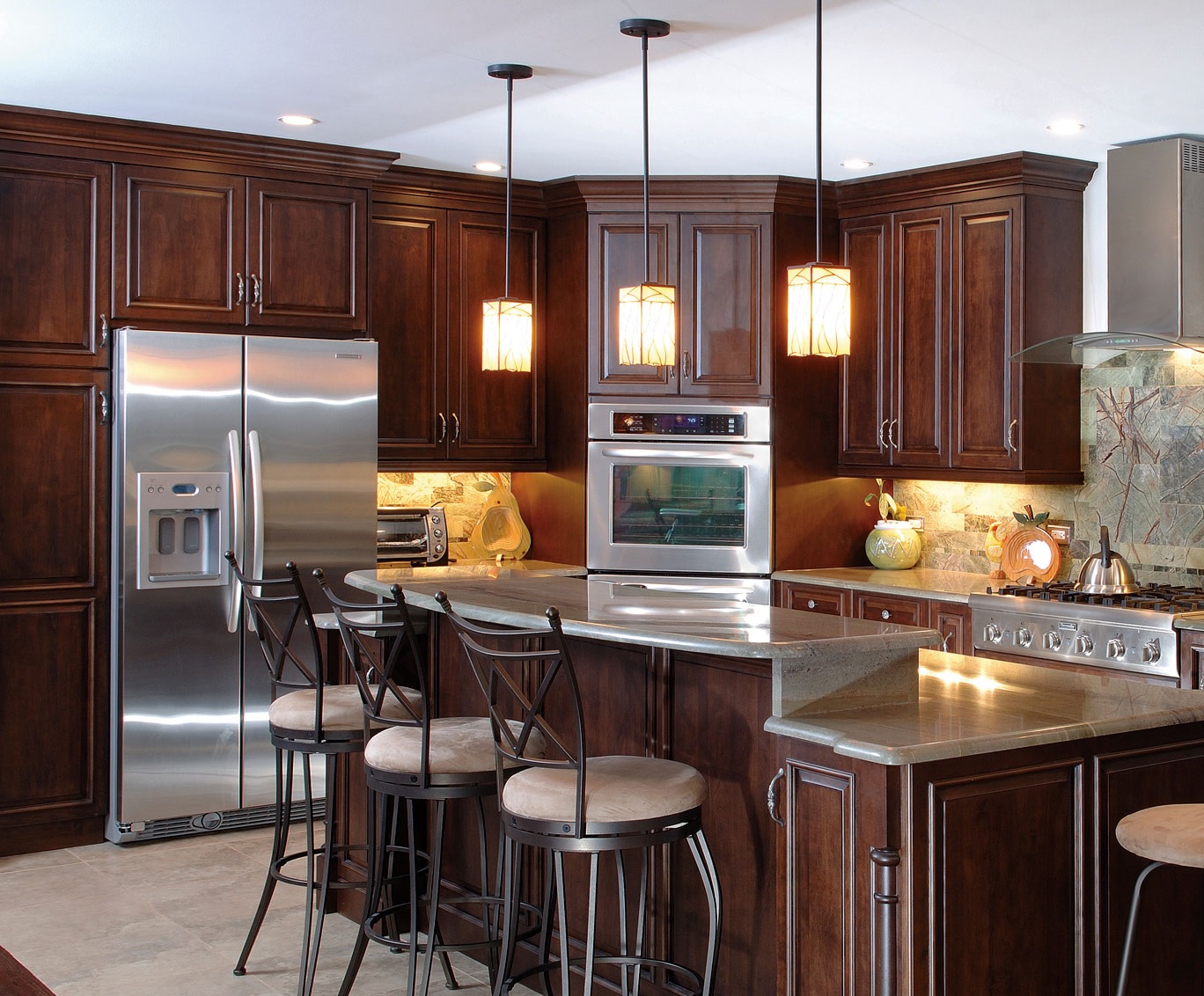 Your Guide to Kitchen Cabinet Prices
Is it time for a kitchen cabinet upgrade? If so, you may find yourself overwhelmed by the sheer amount of kitchen cabinet options available.
If you are unsure where to start, you have come to the right place. Our guide, which features prices for cabinet materials, types, and projects, will simplify your search and save you precious time and money.
Cost by Material
Remodeling your cabinets yourself? Not all building materials are created equal. Some materials will fit your home and budget better than others. Let's take a look at the best material choices for your home and budget.
Wood Price: $5,000 - $25,000
Wood is perhaps the most popular cabinet material, and for good reason. Wood is durable, timeless, and highly customizable. There are so many different types of wood to choose from. The most popular options are cherry, maple, and oak. For those looking for more exotic types of wood, African Blackwood, Afzelia, and Bolivian Rosewood are all striking choices.
---
---
Laminate Price: $4,000 - $15,000
Laminate cabinets are made of a highly durable and synthetic material applied to particle board. Not only are they cheaper than bona fide wood cabinets, but they are more resistant to warping, fading, and general wear and tear, which makes them perfect for busy kitchens.
---
---
Wood Veneer Price: $2,000 - $13,000
Wood veneer – which is made of wood strips affixed to a cheaper material, usually particle board or plywood – works well for low-budget remodels. It's perfect for owners wanting the aesthetic appeal of wood for a lower price. Decreased durability is the main tradeoff of wood veneer cabinets, which makes it the best option for kitchens that do not accrue a lot of wear and tear.
---
Stainless Steel Price: $350 - $1,000 per cabinet
Because it is eco-friendly, stylish, and virtually infallible, stainless steel is quickly gaining ground in modern architecture and interior design. It also makes for a gorgeous kitchen cabinet choice. These cabinets are best suited for outdoor kitchens and eating areas. Though long-lasting, stainless steel is easy to scratch and dent, and may not be suited for the everyday kitchen.
---
---
Cost by Cabinet Type
Not looking to build your own cabinets from scratch? No problem. In this section, you'll find pricing information on stock, semi-custom, and custom cabinets.
Stock Cabinets Price: $50 - $200 per foot
Stock cabinets are an excellent choice for those who don't want to bother with the hard work of a complete remodel. The main drawback is that stock cabinets aren't usually customizable – what you see is what you get. Nevertheless, there are some gorgeous, cost-effective stock options out there.
---
Semi-Custom and Custom Cabinets Price: $100 - $1,500 per foot
Custom cabinets are great for those wanting more control over the design of their cabinets. They work especially well in kitchens that have an unusual shape. Semi-custom and custom cabinets, though more expensive than stock options, give the owner more control over design, shape, and material.
---
Cost by Project
Now that you know how much the actual cabinets cost, you will also need to know the average price of the whole project. Never fear – we have you covered there, too.
Install - Full price range: $500 - $14,000 / Average price range: $2,000 - $7,500
Brand new cabinet installation does not come cheap. The actual price will vary based on standards of living. In Arizona, the price of a new install ranges from $1,800 to $5,400, with the average Arizona homeowner spending $3,500 on their install.
---
Repair Full price range - $50 - $1,000 / Average price range: $150 - $500
If you're just looking to spruce up your existing cabinets, you'll pay as little as $50 or as much as $1,000 depending on the extent of the repair. On average, the Arizona homeowner spent just under $200 on their kitchen cabinet repair.
---
Refinish Full price range - $800 - $5,700 / Average price range: $1,700 - $3,800
If you want to restore your cabinets but are not looking to replace them, refinishing is an excellent option. To refinish kitchen cabinets, you will need to take off the old stain, sand down the wood, and apply fresh paint or wood stain. Most Arizona homeowners spent $2,400 on their refinishing project.
---
Reface Full price range - $1,600 - $13,500 / Average price range: $4,300 to $9,200
Want to redo your cabinets without ripping them out and starting over? Refacing is your best option. It's cheaper than a full install, and it'll make your cabinets look brand new. Arizona homeowners usually spend $9,800 on refacing projects.
---
Great Pros Can Help
When it comes to planning a kitchen cabinet remodel, there are so many things to consider. You may not know where to start. We hope this guide has given you an excellent starting point for planning your project.
Still have questions? Need answers on something specific? We're happy to help. Just tell us a little bit about your kitchen cabinet project, and we'll connect you to the best professional to get the job done for the lowest price.