Master Bathroom - 7 Ideas for Master Bathroom Remodel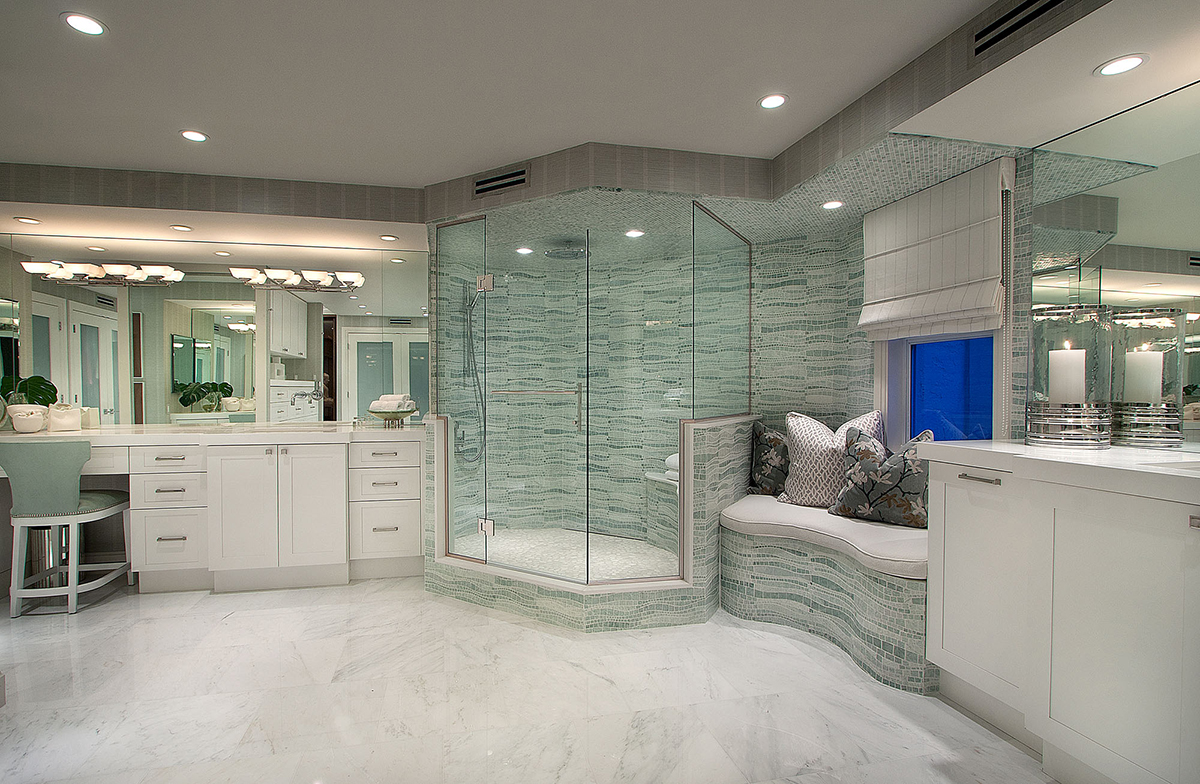 Master Bathroom - 7 Ideas for Master Bathroom Remodel
A beautifully designed master bathroom is a great way to add value to your home and also helps ensure one of the most used rooms in the house is comfortable and inviting. If you need help to remodel master bathrooms in your home, let our experts at Great Pros help you!
---
---
How Much Does it Cost to Remodel a Master Bathroom?
Before designing new and elegant shower enclosure or feature for your bathroom, let our glass specialists help you make the best choices possible by considering a few factors right from the start that impact not just your design choices and the final cost of the master bathroom remodel. The average cost of a master bathroom remodel is determined by a number of design features and the layout you choose and how the following elements are implemented:
Configuration: One important factor to consider as you begin your plans is what material your bathroom walls are made of. Drywall will be better suited from some installation options that are better used on tile. It is also important to know the location of all the supporting studs in the bathroom.
Shower Heads: One important but often overlooked aspect of designing the bathroom shower enclosure is picking the right shower head. You do not want a shower head that sprays water over the enclosure, out the door or makes too much of a mess when you are trying to take your shower.
Measurements: You can take measurements yourself, but there is a high risk for error and mistakes. A better option is to let the experts come out and take detailed measurements and notes about your bathroom and your decorating and modeling plans.
Ventilation: Without ensuring that your bathroom has ample ventilation, moisture can quickly build up, paint can peel, mold and mildew can grow, and the glass can look dingy and cruddy very quickly.
---
---
Master Bathroom Design Ideas
Glass Walls- whether you use decorative glass bricks that offer a certain degree of privacy or full glass walls and shower enclosures, there is something to be said for glass features in a master bathroom. Glass walls make the space feel more open and spacious and also add value and style to your home overall!
Spacious Sinks- old-fashioned bathrooms are often cramped and crowded so one of the best ways to remodel a master bathroom is to expand it and use a larger sink. Giving yourself space for your daily routine will help you feel less stressed and gives you a good start to your day each and every day.
Storage Upgrades-most people spend a lot of time in the bathroom and many activities take place there. Usually, storage is at a premium so adding in some shelves, storage bins, cabinets, or other storage options can be a great way to make a master bathroom more usable. Many master bathroom designs revolve around storage options!
Lighting Zones- one of the biggest complaints many homeowners have when they are trying to figure out the average cost of a master bathroom remodel project is what to do about the lights. Aa popular trend in modern bathrooms is to break the bathroom up into zones with separate lighting controls for each- sink, shower/tub, dimmers, etc.
Full Wall Mirrors- a quick and easy way to add some pizazz to your bathroom design and to also help give the illusion of a larger bathroom space is to add a big wall mirror. It gives you ample room to get ready in the morning and also helps you get the feel of a bigger and better bathroom with the hassle of a big master bathroom design project!
Walk-in Showers- these are for more than just the elderly. Walk-in showers are a new trend for stylish bathrooms that singles, couples, families, and homeowners of all ages are falling in love with. They are clean and elegant and really help to accent design features of the bathroom such as wall and floor tiles.
His and Hers Sides- the final popular tip for master bathroom remodeling projects is to divide and conquer. If you and your spouse seem to always be arguing about space and who is using the sink, a simple addition of a "his and her" setup can be the answer you need. It is affordable, stylish, and really helps cut down on morning stress!
---
---
Great Pros Professional Help
If you are looking for contractors for a master bathroom remodel projects you have lined up, be sure to give Great Pros a call and let our expert contractors go to work for you designing the best master bathroom design and layout possible for you and your family! To get started today, fill out the quick questionnaire on our website and you our contractors will be in touch with you to get started! Don't dream of the perfect master bathroom design, make it a reality with help from Great Pros!
---