The Most Popular Kitchen Layouts and How to Achieve Them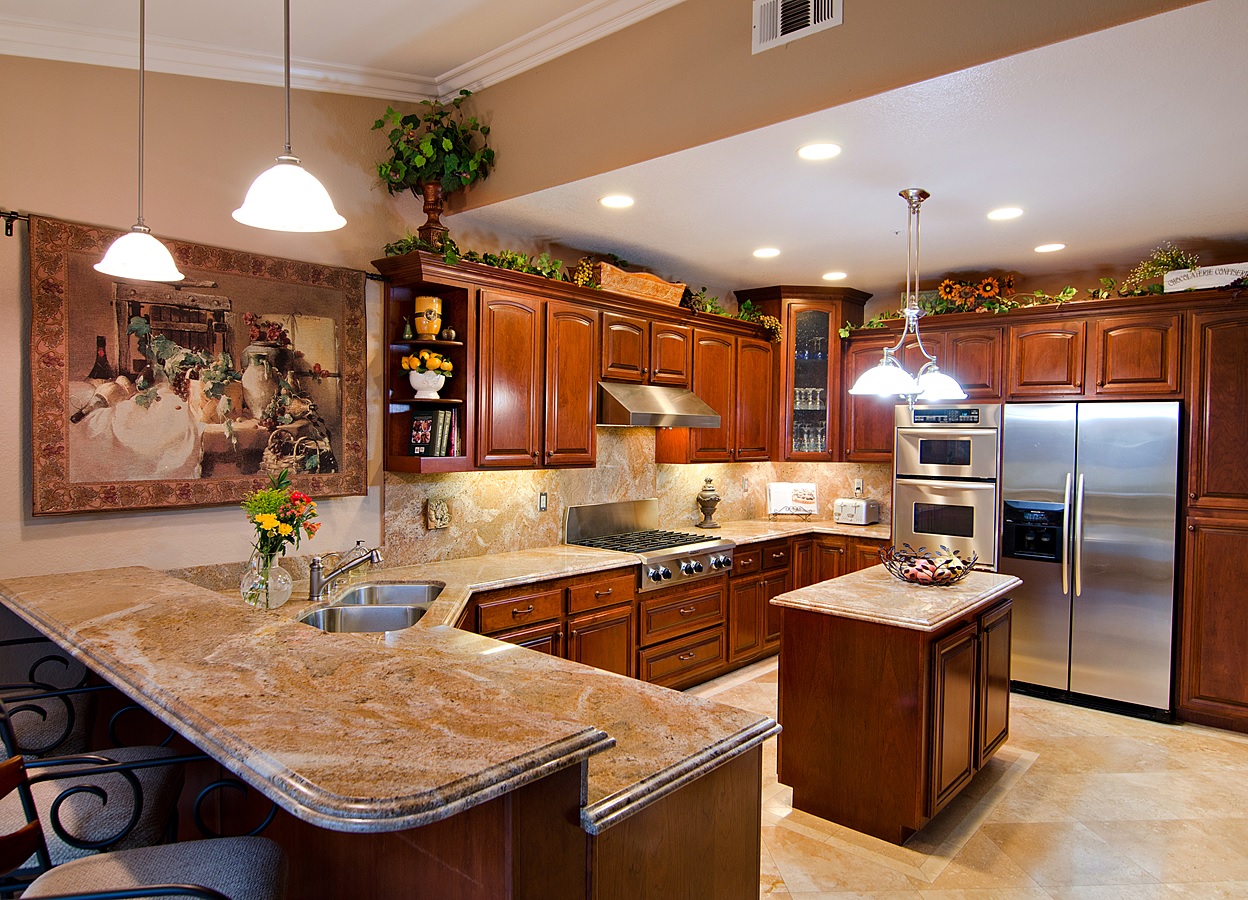 The Most Popular Kitchen Layouts and How to Achieve Them
Experts say that your kitchen is the most important room in your house because it is the very center of your family's day-to-day living. You probably find yourself starting your day in your kitchen, either eating an energizing breakfast or brewing a cup of coffee. You deserve to begin your day in a place that is welcoming and tranquil. Your kitchen is where you prepare meals for your family and you may even eat in your kitchen. Guests and family often corral in the kitchen to cook together, eat, and socialize. Your kitchen is an area to enjoy and bond with loved ones.
Learn just how the plan of your kitchen, kitchen layouts, and kitchen design affects its functionality, and find which one is right for you.
---
Kitchen Layouts
---
Basic Kitchen Layout
---
---
This one-wall kitchen layout is the ultimate space saver. Traditionally found in small apartments, loft or studio spaces, this Pullman kitchen design has evolved to accommodate modern minimalistic styles in both small and larger homes.
How to achieve this look: This layout can be accomplished with fixed appliances and single-wall cabinetry. Today's more modern designs also include an island and can evolve into Galley styles with walk-through corridors.
---
The Work Triangle
---
---
If you're designing or remodeling your kitchen, chances are that you've heard of the kitchen work triangle: the refrigerator, sink, and the stove. This classic kitchen layout emphasizes kitchen efficiency for ease of food and meal preparation.
How to achieve this look: Think about how you usually use your kitchen and consider what is going to be most convenient for you. Some people love having a sink near their stove for easy vegetable prep and cooking while others prefer it next to the refrigerator. No matter what your preference is, keep these three items near each other for a seamless kitchen experience.
---
Corridor or Galley Style
---
---
This kitchen layout has two straight runs on either side. The only drawback is traffic flow. A simple, one-wall design can easily be transformed into a corridor or galley shape with an island.
How to achieve this look: This look traditionally houses a sink on one side and a range on the other. Place an island across from the cabinets in kitchens with limited access to wall cabinets for extra storage space.
---
Open Kitchen Design
---
---
Open kitchen layouts are a great way to keep your family and guests in touch by integrating meal prep with nearby activities. This kitchen layout is versatile, with styles opening up into both family and living rooms. Pair this layout with other kitchen styles such as U or L shaped kitchen for maximum efficiency and conversational opportunities.
How to achieve this look: Eliminate walls that reduce natural daylight, while creating a sense of volume and openness. Try cutting a window opening into your family or living room, or even removing the wall completely.
---
L-Shaped Kitchen
---
---
Because this kitchen style maximizes unused corner space, it's a smart design for smaller to medium sized kitchens. This is a great way to eliminate traffic or doubling your kitchen as a dining room with a table in the center.
How to achieve this look: This versatile shape consists of two adjoining walls and countertops that are perpendicular to each other, forming an L shape. These "legs" can be as long as you want, though no greater than 12 to 15 feet is recommended for efficiency.
---
U-Shaped Kitchen
---
---
Kitchen appliances and cabinets typically cover three sides of this kitchen style with an island in the center, hence the U-shaped design. Extend your workable counter space while preserving efficiency in this got-to-have kitchen design.
How to achieve this look: Try implementing an island in the center of your kitchen with a wine cooler to store beverages, a sink to prepare food, or bar stools for a place to eat and convene with friends and family.
---
How Great Pros Can Help
Studies show that spending more time in your kitchen can actually benefit personal and family health. With this is mind, you need a kitchen that complements your lifestyle.
If you need help with your kitchen design, don't be afraid to reach out for kitchen inspiration and expert advice. Simply fill out our short questionnaire and Great Pros can assist you in reaching top qualified and licensed consultants and contractors in your area. Get free quotes and compare profiles to get the best price on your next project!