The Pros and Cons of Concrete Countertops - Interior Design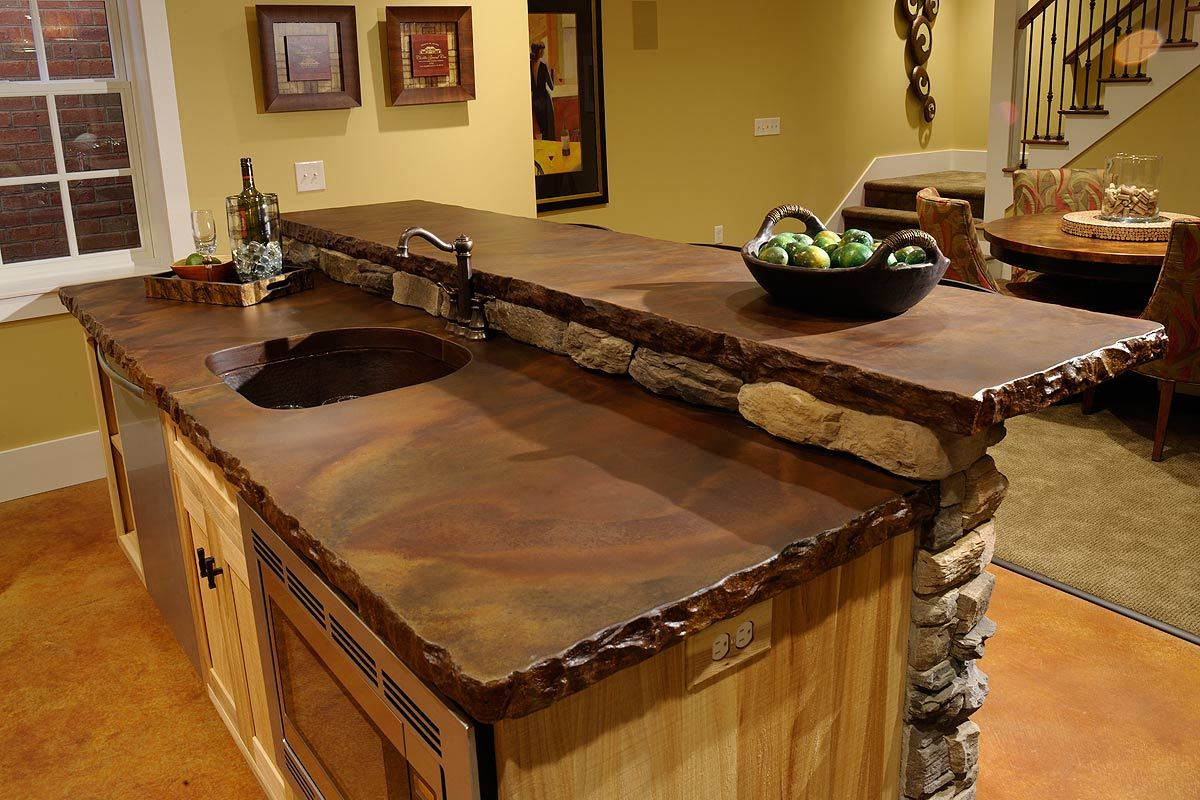 The Pros and Cons of Concrete Countertops
Is concrete one of the best options for countertops on the market? It is one of the most durable countertop materials, the colors are endless, and the styles and various edge details are unlimited. Granite and quartz countertops are obviously two of the most popular choices among homeowners, but if you are looking for a unique look and want to save a ton of money, concrete is a great option to consider. Concrete countertops can offer a rustic, natural look that can be designed in many different ways. It is always best to do some research to understand the product. A little effort will go a long way to ensure you make a decision that is best for you and your home. Let's take a deeper dive into the pros and cons of concrete countertops.
---
---
The Pros of Concrete Countertops
Versatility - The material creates an industrial look but can be softened by adding different, shapes, textures, and more. Recycled glass, tiles, or metal can be laid in the concrete for a unique look.

---

Design - The sky is the limit when it comes to adding in a design pattern to your concrete countertop. Lines, geometrical patterns, and textures can be incorporated. Wit, concrete you have an unlimited number of options when it comes to shapes or the edge details.

---

Durability - Like granite, concrete is heat-resistant. You'll no longer have to hunt for that missing pot holder or trivet to protect your surface. It is also resistant to scratches so you needn't worry about a slip of a knife causing lasting marks on the countertop.

---

Color - Your countertop can be any color you want. Dyes and stains are mixed into the cement to achieve your desired color and to complement your home's décor. Combine an exquisite look with a mix of color and textures.
---
---
The Cons of Concrete Countertops
Maintenance - Concrete is a porous material and must be sealed to prevent stains from soaking in. Certain cleaners can break down the sealant over time so it is up to the homeowner to apply a coat of sealant from time to time. The schedule varies due to the different types of mixtures used by contractors. We suggest that you ask a professional to get a better understanding about the process of caring for the material.

---

Cleanup - Concrete tends to stain more easily than other surfaces due to its porous nature. As long as you promptly wipe up any spills, you can keep your countertop in pristine condition. Applying a coating of sealer, as mentioned above, will help prevent stains from soaking into the concrete.

---

Cracks - Though extremely rare, a concrete countertop may crack. Cracks that appear are most often associated with your house settling. New homes may see more evidence of this than older homes.
---
Concrete Countertops Pros and Cons Recap
Like anything on the market, there are always going to be pros and cons. Obviously, nothing is perfect, but concrete countertops can be absolutely stunning if done right. The cons that were discussed can easily be avoided as well. While concrete does stain, if you have a fresh sealant and wipe up spills quickly, you should never have a serious problem with stained countertops. Even granite will show water marks and stains.
Applying a new coat of sealant isn't difficult either. Add it to your list of your monthly chores and it will soon become a habit you don't think twice about. One item worth noting in regards to the sealant is that it will show 'etchings' and scratches. This isn't a mark in the concrete itself, rather a mark in the sealant which can be buffed out when you reapply the sealant.
Overall, the pros outweigh the cons when it comes to concrete.
---
---
How Great Pros Can Help
You've just read the Pros and Cons of Concrete Countertops, if you need help finding a professional to install or remodel your kitchen try taking our quick 2-minute survey to speak with a licensed, bonded, and insured professional. Your concrete countertop will give your kitchen an elegant look with a modern feel and the durability and functionality you need. Great Pros can connect you to multiple professionals so that you can compare price quotes. Everyone on Great Pros is licensed, bonded, and insured. We are here to help you with all of your home projects.
---