Top 5 Most Poplular Roofing Materials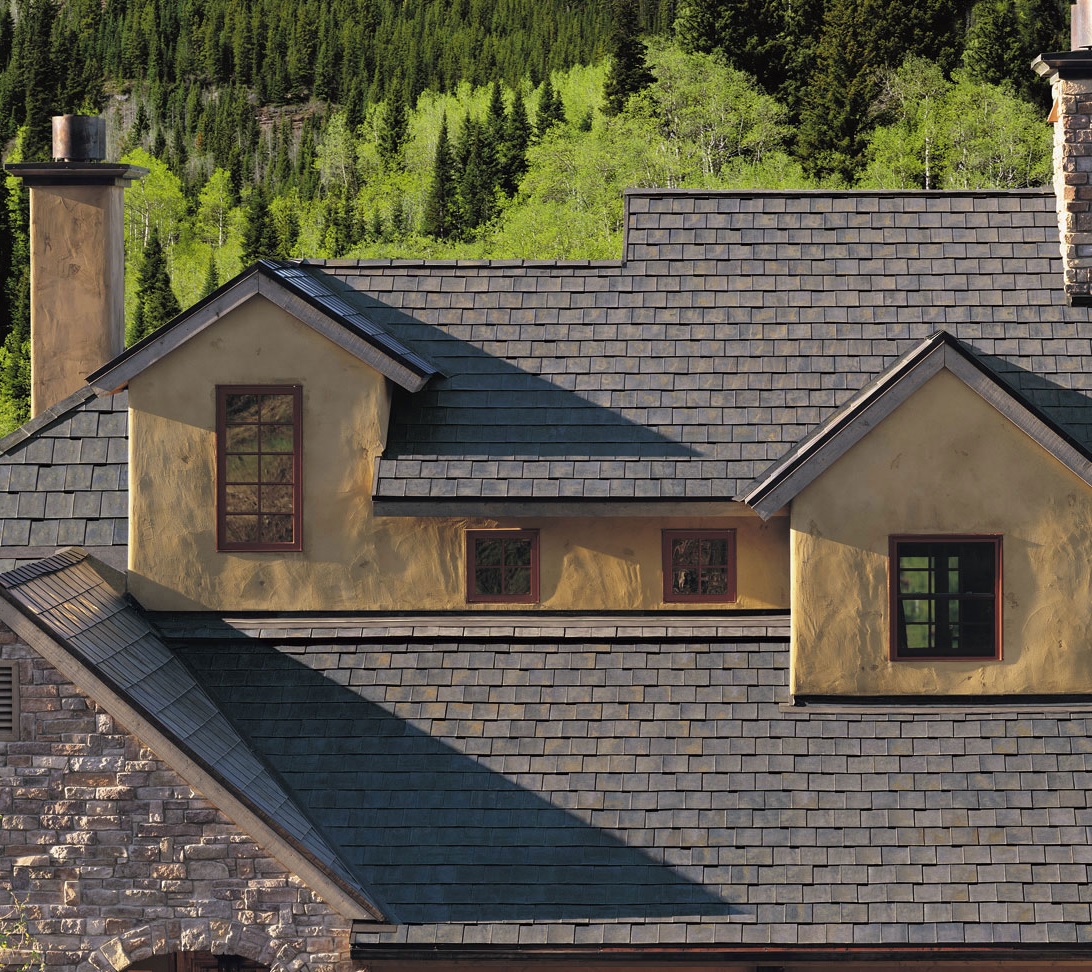 Everything You Need to Know About Roofing Materials
Looking to redo your roof, but aren't sure which type of shingles to use? This guide will cover the pros and cons of the most popular types of roofing materials and compare them by price.
Asphalt Shingles
Price per sq. ft: $3.25-$4.25, including installation fees
Asphalt is the cheapest and one of the most standard shingle materials on the market today. Asphalt shingles are easy to install, come in a variety of colors, and provide average durability. There are two main types of asphalt shingles: organic and fiberglass. Organic asphalt shingles are made of a special type of paper which is then coated with asphalt, making them waterproof. Fiberglass shingles are more resistant to fire damage. Asphalt shingles do not last as long as other types of shingles, and will need to be replaced within fifteen to twenty years. Since they are made with petroleum, asphalt shingles are not eco-friendly.
---
---
Tile Roofing
Price per sq. ft: $3.60-$8, depending on type of material used
Tile shingles are perhaps the most long-lasting of the types listed here. A quality tile roof can last for up to fifty years. Despite its longevity, tile roofs are heavy, so the structure of the home must be strong enough to support them. Tile roofing is best for buildings in hot areas, especially those near the water. A variety of materials can be used to make tile shingles, including slate, concrete, and clay. Tile shingles can be customized to match the aesthetics of the home, and are particularly gorgeous on Southwestern style homes.
---
---
Wood Shingles
Price per sq foot: $4-$7, plus installation fees
Cedar shingles are more unique than asphalt shingles, but provide the same durability. In fact, cedar shingles last up to forty years. That's basically twice as long as asphalt shingles. You also have more control over the design of cedar shingles, and can choose from hundreds of species of wood. Wood shingles aren't suitable for homes located in wet or humid climates, since water damage and moisture can cause them to degrade faster than normal. The roof will also need to be treated with a special preservative to safeguard against mold.
---
---
Slate Shingles
Price per sq ft: $5-$8, plus installation fees
Slate shingles, which are made from naturally occurring stone, can beautify your home and increase its resale value. Slate shingles are more expensive than your standard asphalt shingles. This is because they are highly durable, weather and fungi resistant, environmentally friendly, and low-maintenance. However, although they are resistant to several types of damage, slate shingles are heavy. Some homes may not be strong enough to withstand slate shingles. Before you decide to use slate shingles, hire someone to evaluate the structural strength of your home.
---
---
Metal Roofs
Price per sq. ft: $7-$11, including installation fees
Metal roofing is best suited for homes located in colder areas that receive a lot of snow. Metal is lightweight, highly resistant to fire, water, mold, and weather damage, and also makes snow melt more quickly. The best part about metal roofing is that it can be installed on top of foam insulation or an existing roof, which reduces remodeling costs. It also reflects heat, helping to regulate the internal temperature of the home. However, metal roofing is easy to dent and is not ideal for blocking out sound. Another disadvantage of metal roofing is that it expands and contracts depending on the weather. The structure of some houses may be unable to accommodate this so it is important to have the structure of your home evaluated before deciding to install a metal roof.
---
---
Here's How Great Pros Can Help
Each type of roofing material has its own advantages and disadvantages, and the material you choose will vary based on your own needs and budget. Need more help choosing the right roofing material? Tell us about your project, and we will connect you to the right professional to assist you with choosing the right shingle type for your home and installing your new roof.