9 Simple Ways to Improve Your Curb Appeal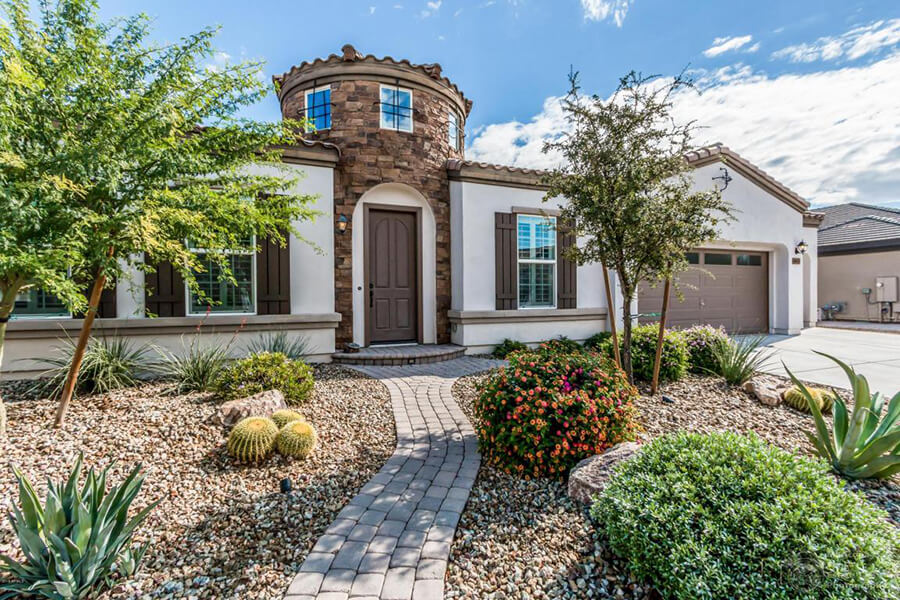 How to improve curb appeal
Improving the outside of your house not only makes it more attractive to live in, but it also increases the value substantially. According to realtors across Phoenix, boosting your curb appeal can add up to $10,000-$15,000 of value to your house. With the 2017 Phoenix housing market on the rise, it might be a good idea to make a small investment to improve your home's appearance. Here are 9 quick tips to improve your curb appeal.
1) Clean the exterior of your home:
Cleaning the outside of your home a great first place to start when improving your curb appeal. Simple tasks like keeping your lawn mowed, bushes/shrubs trimmed, weeds pulled, and windows cleaned can go a long way. Going the extra mile to pressure wash your driveway or touch up the exterior painting will also benefit your home's value.
2) Paint the front door:
A fresh coat of paint on your front door adds a lot of personality to your home. This can be done by a professional for a relatively cheap price, or take the project on yourself if you're feeling crafty. Simply remove the door, lay it flat, sand off the grit, and lay that fresh coat of paint on. A foam roller works really well for applying the paint, but a brush will do the job too. A painted front door has become increasingly popular over the last few years so don't miss out on this trend!
3) Install outdoor lighting:
Outdoor landscape lighting really adds style to your front yard. Purchasing solar lights is great for a sunny state like Arizona since they do not require wiring. Homeowners commonly put some type of lighting along their walkway for a variety of reasons. Not only does it look good, it improves safety and security.
4) Add furniture to your porch:
Outdoor furniture adds a lot of personality to your home! You can start simple with a small table and some chairs. Understand the limits of your porch and don't overdo it with too much furniture. A little bit will go a long way.
5) Replace your roof:
Getting a full roof replacement is a pretty big job and can cost a couple thousand dollars. With that being said, full roof replacements are known to give one of the best returns on your investment when selling a house. According to HGTV, replacing your roof typically gives an 80% return on your investment! Great Pros has multiple roofing companies who are ready to give you a free estimate on any roofing job. Feel free to take 1 minute to let us know what you need and you'll hear from a few background checked, licensed, bonded, and insured companies.
6) Clean your gutters:
If someone is able to notice dirty gutters, that is a serious problem. Not only does it look bad, the gutters will not function properly. Get your gutter cleaned out sooner than later.
7) Update your garage door:
If your garage faces the curb, it takes up a lot of visual real estate. Similar to a new roof, investing in a new garage door is known to have incredible returns on the investment. There are many styles to choose from that would look great with your home.
8) Plant flowers:
Planting flowers is a very inexpensive way to add some pizazz to your yard. A popular trend these days is to buy raised flower bed kits and installing them in your yard. This is also a good idea for a new gardener because it is so easy. You won't need to worry about clearing a spot in your yard and don't need to worry about dealing with bad dirt. All you need is to purchase soil and mulch to get started. Raised flower beds can be as cheap as $50 or as expensive as $300. If you're more experienced or don't want the flower bed, go ahead and clear that area in your yard to start a garden from scratch.
9) Painting the exterior of your home:
According to QualitySmith, getting the exterior of your home painted is worth every penny. The return on your investment is typically about 90%, and a fresh coat of paint is something that any home buyer would want! If you are interested in free painting quotes, take a minute to let us know what you need. Just like our roofers, all of the painters on Great Pros are background checked, licensed, bonded, and insured.
As always, Great Pros is here to help with any of your home projects! In the past month, we have connected hundreds of homeowners in Arizona to licensed, bonded, and insured companies for their home projects. If you need assistance improving your home's curb appeal, we would love to help! Click one of the pictures below to connect with us on Facebook.