Bathroom Colors - Best Colors for Your Bathroom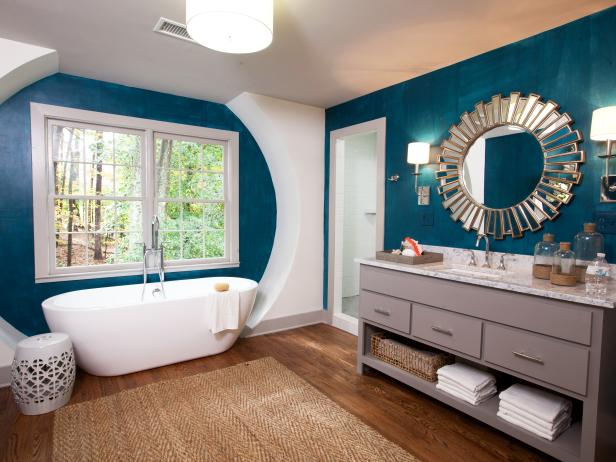 Bathroom Interior Design - The Best Colors for Your Bathroom
Deciding on the perfect bathroom color can be difficult when your basic white looks so clean. If you're considering giving your washroom a facelift, you've come to the right place! Here you will find the best bathroom colors for your home. Need help? Talk to a professional for free here.
---
Cool Grays
---
---
Classic Granite has never looked so good when paired with concrete and cool grays. Mix it up by pairing it with dark wood and glass to leave your bathroom looking clean and sophisticated.
Get the Look: Paint the walls a light gray and add a dark wood or black vanity. Countertops can be concrete or granite to bring out the gray tones. Highlight with white accessories! For added design, use one bright color to contrast the gray!
---
Powder Blue
---
---
2017 has taken a liking to the light and airy style of powder blue bathrooms. Not only does this bathroom color evoke a relaxing atmosphere, it makes your bathroom look bigger! Take a soak and de-stress in the natural spring theme!
Get the Look: Add powder blue to your bathroom by painting the walls and complimenting them with neutral colors! Or, paint your old vanity powder blue to contrast the walls. Adding white towels or powder blue accessories can change your bathroom in under 24 hours!
---
Matte Black and Wood
---
---
Feeling Daring? Go vintage-modern and change your bathroom colors to black and white! While black may seem daunting, if done right your bathroom will boast sophistication and style.
Get the Look: Paint the walls black and have white towels and accessories, compliment these colors with a wood vanity or basket! Mixing natural elements with the black and white to complete the look. For a smaller change: add black and wood accessories to a white counter.
---
Clean White
---
---
Did we say that white was boring? Not in this bathroom! White walls and dark floors, this style of bathroom is a classic theme with a modern twist! Color block the wall half white, and half gray to contrast each other and make your bathroom seem taller!
Get the Look: Install dark tile and have a similar color half way up the wall. Paint the top half of the wall white and tile the shower white. Compliment this bathroom with wood or natural elements!
---
Sapphire and Metallic
---
---
Add some drama to your bathroom by incorporating jewel tones with a mix of metal. Metallic sapphire compliments any bathroom confidently. Or choose another jewel tones like amethyst or ruby to fit your taste!
Get the Look: Paint the walls with your choice of jewel tone and accent it metal and white! Wallpaper is always a good consideration when choosing confident colors! Check out more wallpaper ideas here.
---
Can this be a DIY Project, or Should I Hire a Professional?
If you're planning on doing more than a simple change of bathroom colors, you may want to hire a professional. If you choose to remodel your bathroom you can save some money, but there is the risk of not doing the job correctly the first time. If you mess up, it is going to be even more expensive to fix! By hiring a professional, you have the sense of security that they will get the job done right. We have great contractors who are ready to help. Take 2 minutes to let us know what you need to be done and we'll get you some free price quotes right away.
---