How Much Does it Cost to Install Wood Flooring?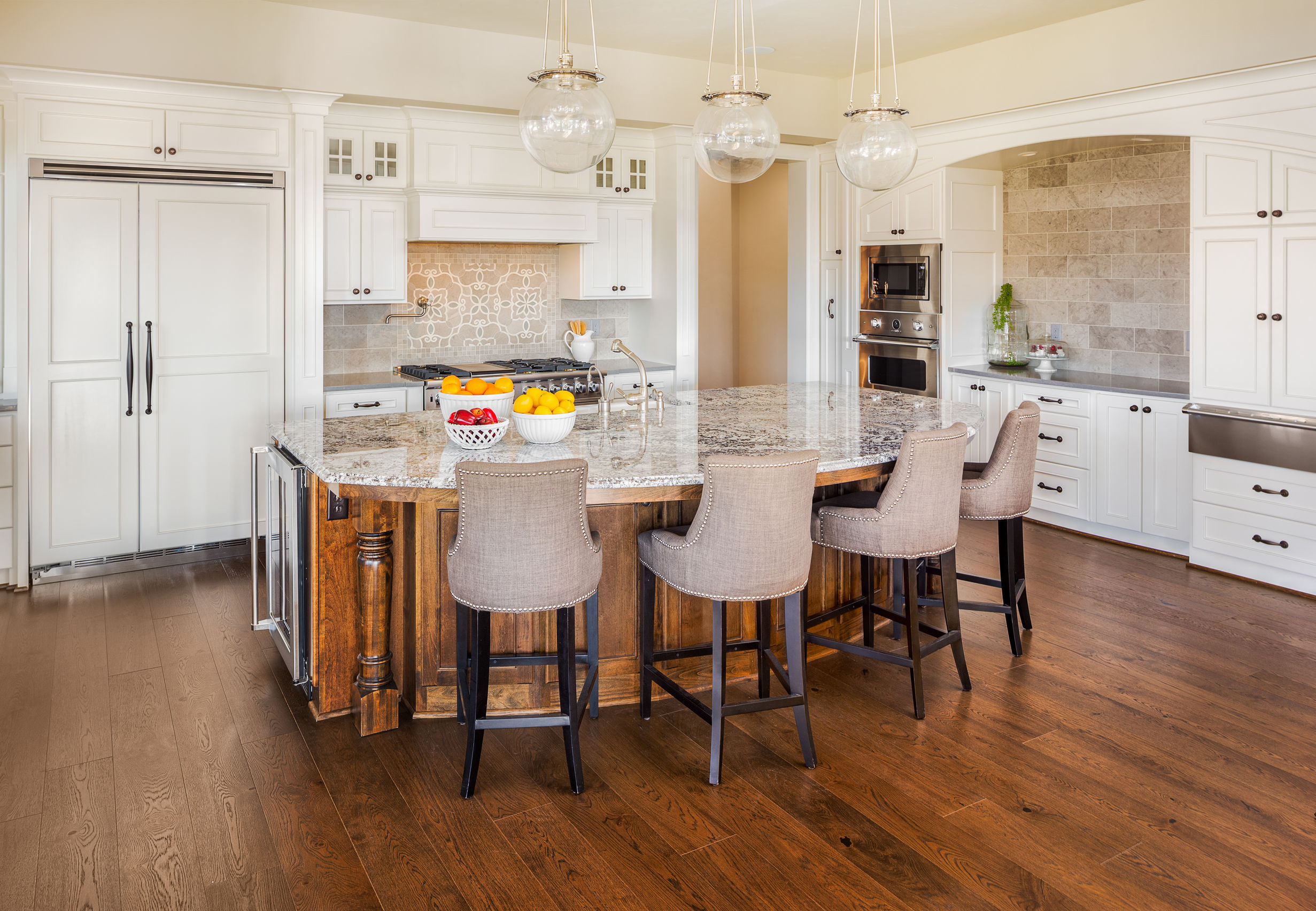 How Much Does it Cost to Install Wood Flooring?
While hardwood floors make homes look more beautiful and feel more luxurious, installing hardwood flooring can be a daunting task. There are so many options and factors to consider when budgeting and planning. Let our handy guide on hardwood flooring costs do the hard work for you.
---
---
Types of Hardwood
There are two types of hardwood: solid and engineered. A board of solid wood is made from one continuous piece of wood, and is usually ¾ of an inch thick. Since each board is a solid piece of wood, solid hardwood floors will expand and contract as the temperature fluctuates.
Engineered hardwood is made from multiple pieces of hardwood combined in layers. One board of engineered hardwood usually consists of three to five pieces of wood. Engineered hardwood is the cheapest hardwood flooring option. However, engineered hardwood is more functional than it is attractive, and is best suited for homes with pets and kids.
---
Species of Hardwood
Hundreds of wood species are used to create hardwood floor boards. We've listed some of the most popular species based on hardwood board type below.
---
Solid Wood
Solid hardwood floorboards need to be attractive and unique. Popular wood species for solid hardwood include bamboo, Brazilian walnut, hickory, maple, red oak, and pine. Although most of these are highly resistant to damage, others, particularly pine, are susceptible to scratches and dents.
---
---
Engineered Wood
Engineered wood boards must be highly durable and resistant to spills and scratches. That's why species like acacia, Brazilian cherry, Brazilian koa, heart pine, and white ash are popular choices for engineered boards.
---
---
Hardwood Prices
Installing your hardwood floor will cost a pretty penny. Here's what you can expect to pay based on the type of hardwood you want.
---
Solid Hardwood
The average Arizona homeowner should expect to pay $2 to $5 per square foot of solid domestic hardwood. Exotic wood species, like teak, jarrah, and Brazilian hardwood, may cost anywhere from $8 to $14 per square foot. This price does not include finishing and installation costs.
---
Engineered Hardwood
Per square foot of unfinished engineered hardwood, Arizona homeowners usually pay $3 to $5 per square foot. However, some high-quality engineered hardwood can cost as much as $8 to $13 per square foot.
---
---
Installation Costs
The following costs reflect the low, average, and high hardwood flooring costs for Arizona homeowners.
Low end: $1,200
Average range: $2,300 – $6,200
High end: $10,000
This includes the entire cost of installation, including materials, finishing, and labor. In addition to material costs, contractors charge anywhere from $3 to $10 per square foot for installation. This covers both solid and engineered hardwoods.
---
---
Things to Consider When Budgeting
There are some hidden costs when it comes to installing your new hardwood floor. Don't forget to consider these factors when budgeting.
Budget for and purchase 10% more wood than you think you'll need. Don't order the exact amount of wood you will need. Because you will need to cut the boards to fit your home, you will end up using more than you might think. Err on the side of caution and order at least 10% more than you think you will need.
Don't forget the finishing. To achieve that glossy look, you will need to have your hardwood floor finished. You can either opt for site finishing or factory finishing. Site finishing will give you more control over how your floor looks, but it will be more expensive. Factory finishing is the cheapest hardwood flooring option, and also makes installation quicker and easier. However, you won't have as much control over the appearance.
Factor in cleaning and care costs. To keep your hardwood floor looking new, you will need to consider how much it will cost to clean it. You will need to buy special, manufacturer approved cleaning products, as well as a hardwood floor attachment for your vacuum, if you don't already have one. You will also need to purchase a sander and hardwood floor polish. Want more advice on keeping your hardwood floors clean and pristine? Check out the Great Pros guide to hardwood floors.
Looking for a licensed and insured contractor in your area? Great Pros can help. Give us the specific details on your project, and we'll connect you to the best contractor for your needs.