Kitchen Inspiration and Look Book - Beautiful Kitchens Styles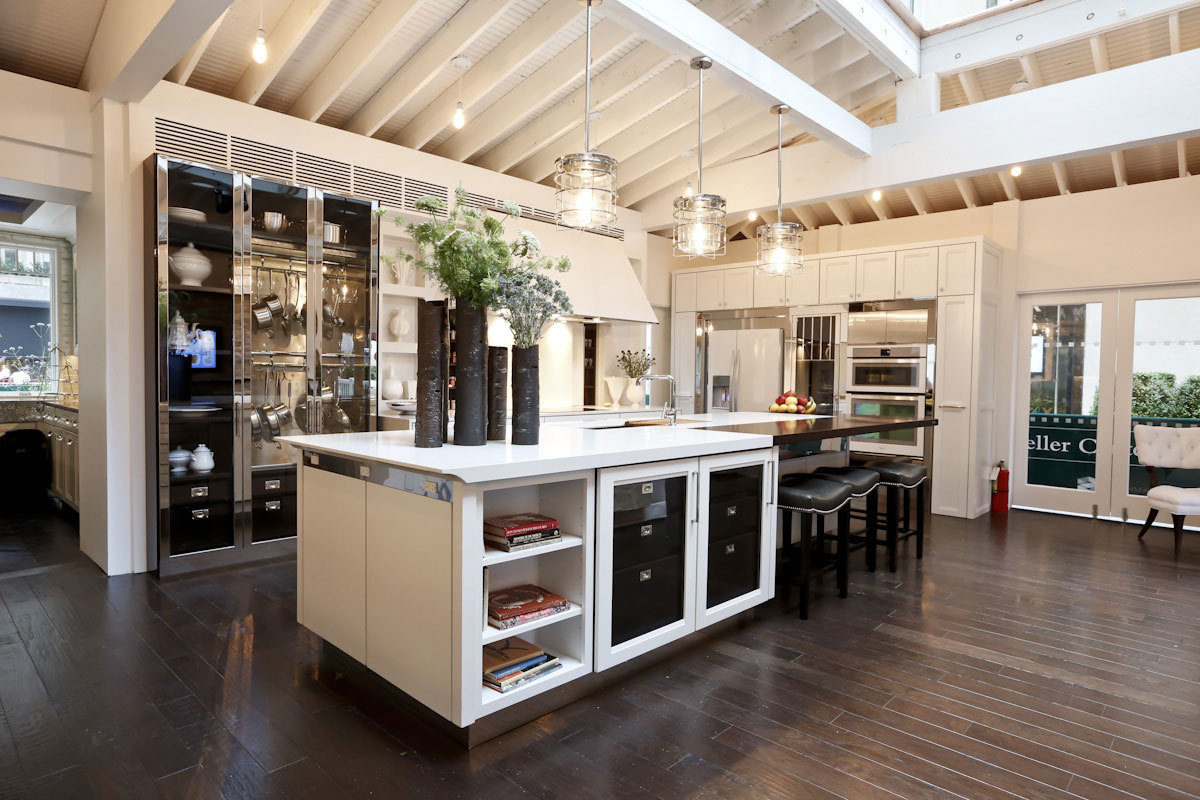 Beautiful Kitchens Styles - Kitchen Inspiration and Look Book
Long gone are the days when your kitchen area was a dreary workspace and hidden behind closed doors. Kitchen's today are central for entertaining and everyday living. No matter how you decorate or use your kitchen area, it is the heart of your home.
Whether your style is rustic or sophisticated - or your color preference cheery bright, earthy neutrals, or gleaming white – you'll find a plethora of ideas here for amazing and beautiful kitchens as well as interior design styles perfect for every home.
---
Classic Kitchen
---
---
First on our list of beautiful kitchen styles, the classic kitchen layout! A traditional kitchen doesn't mean compromising on style. In fact, classic kitchens are one of the most popular among kitchen design today. Cabinets can be stained or painted, glass-front doors are also a popular option, along with multifunctional center islands. The best classic kitchens pull together traditional elements without looking like they are trapped in a time warp. Keep this design feeling fresh by marrying industrial or modern elements like barstools and cool lighting fixtures.
---
Country Farmhouse
---
---
An amazing kitchen style that is both open and inviting, country farmhouse kitchen give you the feeling of a weekend getaway, right in the comfort of your home. Farmhouse style furniture-like cabinetry and tables are popular conventions. AN eclectic mix of finished help complete the comfortable and living in look. Bright country colors range from primary blues, yellows, and reds to relaxed, aged tone of pale-yellow and cream. Whatever hues and tints your favor, this country-style are all about mixing and matching.
Love this look? Learn how to recreate it with Designs for Your Country Kitchen.
---
Cottage Kitchen
---
---
If you're looking for a bright, cheery, and nice kitchen look, cottage style may be the best option for you. Whether your kitchen cottage style kitchens are enveloping and cozy. Playful fabric patterns are all but a staple in this family-friendly, whimsical style. Try salvaged hardwood flooring and painted cabinets for a pop of color.
---
Contemporary Kitchen
---
---
Next on our list of beautiful kitchen styles, Contemporary kitchens! When family friendliness meets function, you'll discover a contemporary kitchen. This cool kitchen look is carefully crafted with a surprising mix of materials: polished and casual, new and old. Why cook for company when you can cook with company? Today's kitchens have plenty of room for guests and hosts to interact while working. Add lots of open space, durable and comfortable seating, along with gourmet cooking equipment for the perfect 21st-century living.
What to achieve this look? Read more on Contemporary Kitchen Design.
---
Old World Kitchen
---
---
If your home has an antique feel to it, complement it with an Old World style kitchen. This European-influenced nice kitchen style is all about dark woods, hand-carved details, and intricate moldings. Just be careful not let this pallet get too dark or have too much overwhelming detail.
---
Italian Kitchen
---
---
If you love the welcoming, homey elements of the Tuscan countryside than an Italian kitchen just might be the best bet for you. This family-friendly style has an easy way of feeling casually-grand, with sun-warmed color pallets, colorful backsplashes, and utilitarian design. Complete the look with distressed stone or wood and hand-painted tiles.
If you're handling this kitchen design all on your own, check out tips on How to Install a Glass Tile Backsplash.
---
Modern Kitchen
---
---
Sophisticated, sexy, and sleek, the modern kitchen's first job is to keep visible clutter to a minimum. High-tech materials and reflective surfaces are central to modern kitchen design, while exotic wood give a touch of sophisticated luxury without fabrics or frills. Mid-century seating is popular for a classy modern look, try high polished woods for a more current interpretation.
---
French Country or Mediterranean
---
---
Imagine you are in a contessa villa off of the Mediterranean coast, or perhaps a small hotel in the South of France. The atmosphere is full of romance, surfaces are timeworn with elegance, and colors are sun-dappled. To replicate Mediterranean or French Country ambiance anywhere, look for warm-tone cabinetry and Provencal fabrics in rich ochre, cobalt, and russet. Accessories with copper pots, handmade ceramic accessories and rough-hewn textures for the final touches.
---
How Great Pros Can Help
Your kitchen is arguably one of the most frequented rooms in your house, so it's important to get it just right. If you need help with your kitchen design, don't be shy – experts are here to help! Simply fill out our short questionnaire and Great Pros can assist you in reaching top qualified and licensed consultants and contractors in your area. Get free quotes and compare profiles to get the best price on your next project!
---