Italian Kitchen Design - Tips on Designing an Italian Themed Kitchen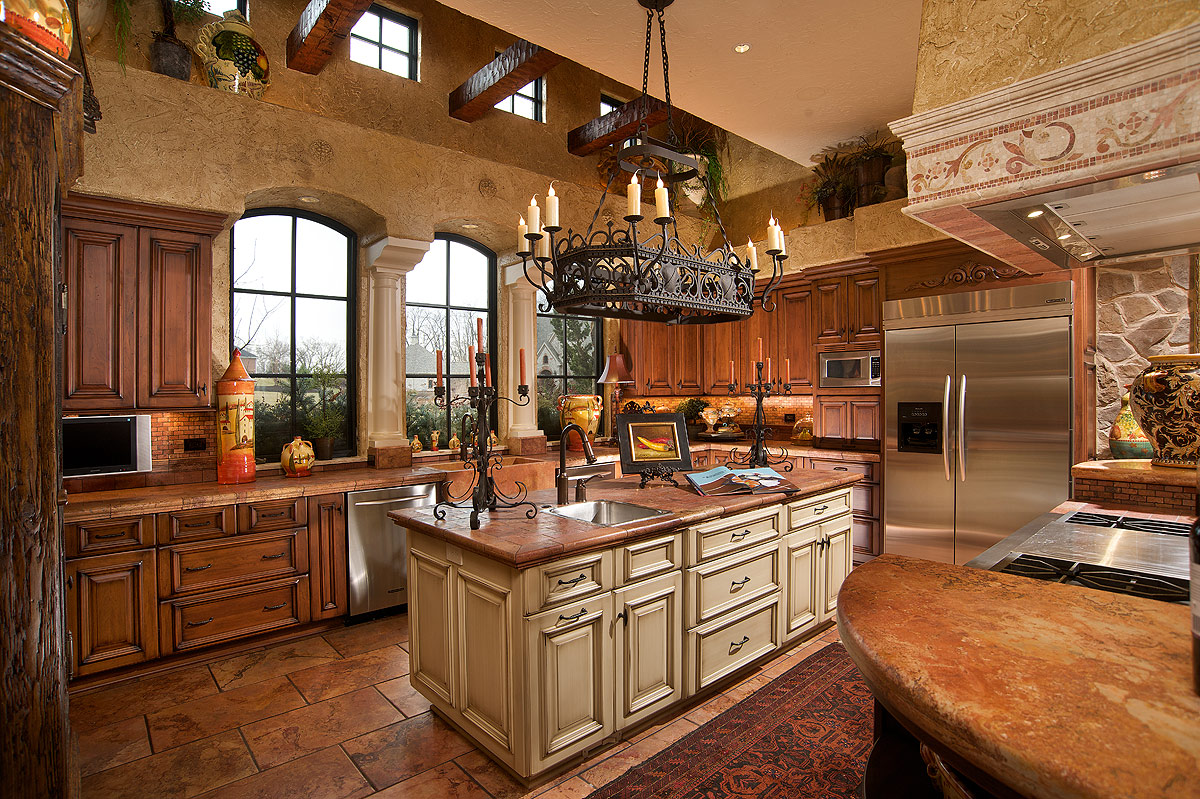 Italian Kitchen Design - Tips on Designing a Tuscan Inspired Kitchen
Known not only for its delicious, classic cuisine, and the hospitality of its inhabitants, relaxed Tuscan elegance marries inspiringly well with Italian kitchen design. If you are embarking on your very own kitchen installation or remodel and your personal style leans towards warm and welcoming, an Italian kitchen may just be the right style for your home.
Whether your kitchen is used for entertainment, meal prepping, or enjoying quality time with the family, your kitchen design is your opportunity to express yourself in a place where people gather. Whether you're set on Italian kitchen design, you're considering other styles like country kitchens and contemporary kitchens, feel free to explore options and let your personal style shine through!
---
What Makes an Italian Kitchen
Italy has long reveled as a major trendsetter in global kitchen design, fabled for its Tuscany region, legendary in its distinctive beauty, architecture, wine and food culture. Italian kitchens promote rustic mixes of natural, sunny textures and hues of the Mediterranean Sea come together to produce interiors born out of passion and creative talent.
The best Italian kitchens feature distressed or matte surfaces that invoke a "lived in, well-used, and well-loved" type of vibe. The prevailing theme of Italian kitchen design is relaxed elegance and comfort, inspiring a space that feels more like a vacation villa, then a place to hurry away from to join the rat race every morning.
Tuscan-style kitchen design places a special emphasis on natural light. Whether that be with semi-translucent curtains, or windows without curtains at all. Coverings are airy, light, and bright.
Other naturally inspired features, from flora to furniture are common – staples such as rustic benches and tables of raw wood are commonly seen, while window box boxes are often bursting with flowers. Countertops favor matte stone over glossy ceramic or granite, and ceilings boast wide-open wood beams. Cabinets are generally crafted from quality natural wood, painted or stained in light colors continue naturally bright and light feels.
---
---
Tips for Design, Color-Schemes, and Themes
Incorporating details from Italian kitchen design doesn't always require a costly "Tuscan" cabinet installation. Some of the basics that make up an Italian kitchen are warmth, timelessness, and utility. These are elements you can easily incorporate into your kitchen to give it that Tuscan feel.
---
Setting the Mood
---
---
Italian kitchens are both inviting and cozy. Natural stone surfaces, traditional wood cabinets, and the smell of warm food contribute to the beauty and timelessness of Old Country charm and age-old Italian lifestyle. Little architectural details such as arched doorways, plank floors, and wood cladding help give the room the feeling that it has a story to tell.
---
Italian Décor
---
---
Italian décor is all about celebrating art, cooking, and family life. Traditional style pans and pots can be hung or displayed for easy utilitarian access and visual appeal. Painted tiles, mosaic backsplashes, and framed art help in bringing extra beauty and interest to the kitchen. Liven up your décor by displaying an array of spices, aged wine, fresh bread, and olive oil out in the open.
---
Tuscan-Style Floors
---
---
Floors in traditional Italian kitchen design are most often crafted from ceramic, marble, or terracotta tile in sandy, natural looking finishes. Furniture most often sports distressed or hand paint looks, continuing the lived-in, relaxed, welcoming, and warm feel of a classic Tuscan kitchen design.
---
Design Flourishes
---
---
Terracotta and mosaic tile backsplashes are a popular way to add lively pops of color into your Italian kitchen. Matte finishes are typically favored over glossy ones, although your backsplash may be an area you can choose to add a little shine to your design and break up the otherwise laid-back earthy feels with attractive hand-painted gleam
---
Creating your own Italian Renaissance
---
---
When it comes to Italy's colors, feel free to be artistically bold. Many authentic Tuscan kitchen designs choose to feature trademark colors of rural Italy, which reflect the rolling green hills, abundant sunshine, and rich soil. Integrate deep sunset shades like soothing yellows, ocher, burnt orange and fiery red, fields of calming lavender flowers, or string a rainbow color of peppers in the landscape to promote the luxurious, relaxed attitude of the Tuscan countryside.
---
How Great Pros Can Help
If you need help with your Italian or other kitchen layout and designs, don't be afraid to consult with an expert. Simply fill out our short questionnaire and Great Pros will help you get connected with qualified and licensed consultants and contractors in your area. Get free quotes and compare profiles to get the best price on your next project!
---