Liven Up Your Living Room -Cheap and Easy Interior Design Tips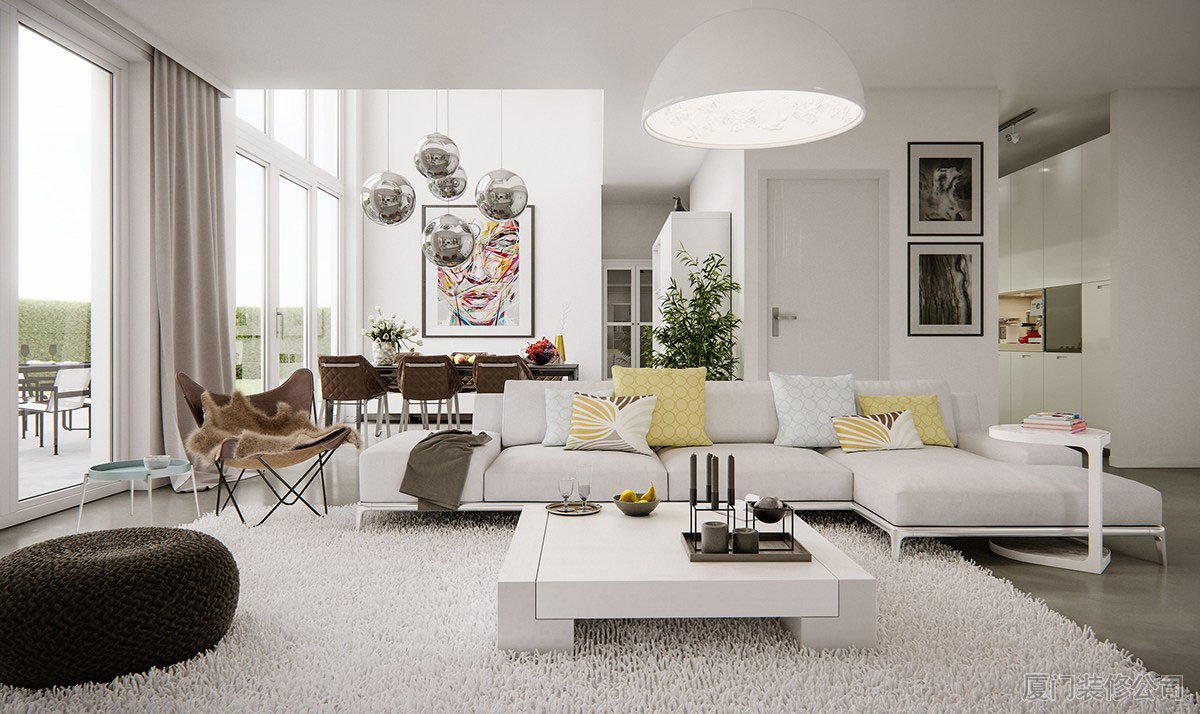 Liven Up the Living Room on a Budget
Could your living room use a facelift? You don't to shell out thousands of dollars on a complete remodel to give your living room a new look. Try a few of these inexpensive ways to liven up a living room.
---
Create a Focal Point
---
---
Believe it or not, when you walk into a room, there's usually something you notice first. Common living room focal points include fireplaces, mounted televisions, accent walls, and windows. Your focal point can be virtually anything – an impressive light fixture, a piece of brightly colored or patterned furniture, or even a portrait or photo frame.
You may not even have to buy anything new to create a focal point. Just use what you have to create a little feng shui. Identify any existing focal points, like a fireplace or window, and rearrange the furniture around it. Try not to have more than one focal point, though – this makes the space feel unnatural or out of balance.
---
Select a Color Scheme
---
---
Color harmony is one of the key elements of an attractive living space. Take a look around your living room. Do all the colors complement each other? And we do mean all the colors. Consider the furniture, trim, décor, and light fixtures in addition to wall color.
You may want to choose a color scheme for your living room based on a theme. If you're going for a Tuscan feel, try pairing rich oranges and earthy browns with a splash of turquoise and jade. If you prefer a softer, more neutral color scheme, light grays and soft blues with a hint of white work well together.
---
Add New Pillows
---
---
You'd be amazed at how far new pillows will go when it comes to updating your living room décor. If your couch is a neutral color, consider adding a bright, but complementary, pillow. This will add a little extra pop to the room.
---
Repaint or Wallpaper the Walls
---
---
Ditch the drab eggshell paint for something a little more enticing. Just remember to keep all your colors complementary. Adding an accent wall can also create a focal point for the room if you don't already have one. If you want a custom design, consider hanging wallpaper instead of painting. You can see the current wallpaper trends here!
---
Update Windows and Curtains
---
---
Time to toss those cobwebbed curtains. To give your living room a more airy, open feel, swap out heavy drapes and curtains for sheer lace or gossamer. Remember, make sure the curtains you choose complement the rest of the room!
---
Buy a Rug
---
---
Are your floors looking a little bare? Buy a rug! Rugs are perfect for hiding stains and flaws in the floor. Plus, they add a little extra color and design to the room. They're also a great way to protect the floor from scuff marks caused by furniture.
---
Add Plants and Succulents
---
---
What better way to liven up your living room than actually adding a little life? Not only are plants a gorgeous addition to any living space, but many of them are great for improving the air quality in your home. Spider plants are a great option, since they're easy to grow and maintain. Peace lilies also grow well in the shade, and flower during the summer months. You can check out these five plants that purify your air and are almost impossible to kill.
Remember, if you have pets, make sure you research any plants before purchasing to ensure they aren't toxic. Keep all plants out of reach of pets.
---
Add Custom Trim and Molding
---
---
Custom trim and molding can transform your living room and increase the value of your home in the process. The living room is the best place for a lot of custom trim types, like photo rails, chair rails, and wainscoting. Photo rails are perfect for those who have a lot of pictures in their living room, and chair rails and wainscoting are great for protecting the wall from furniture damage.
Interested in upgrading your trim but aren't sure where to start? Check out our guide to custom trim molding.
Rearrange the furniture
Sometimes all your living room needs for a fresh look is a different layout. Examine the current furniture layout in your living room. Does the furniture "flow"? Are there any tight spaces that are awkward to maneuver around?
When rearranging furniture, try to avoid pushing furniture all the way up against the wall. Allow at least a few inches of space so the room has some space to breathe. Try to space your furniture out evenly, and avoid grouping large pieces of furniture together in tight or small spaces.
---
How Great Pros Can Help
If you want to breathe new life into your living space, you don't have to worry about expense. There's no need to fork out thousands for a complete remodel, especially when there are so many inexpensive, easy ways to liven up your living room. Got a bigger project you need help with? Let Great Pros help you find a licensed and insured contractor in your area! Give us the specific details on your project, and we'll connect you to the best contractor for your needs. There is never pressure to buy when you use our free service.