Average Cost of a New Kitchen 2017 - Affordable Kitchen Remodels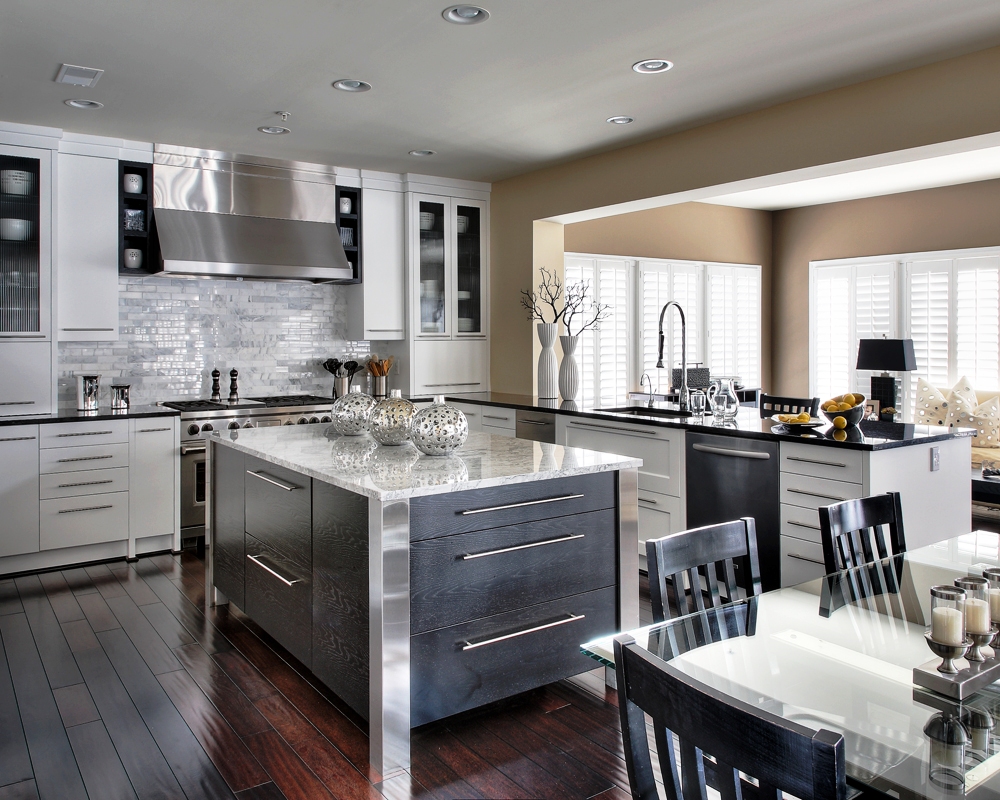 Average Cost of a New Kitchen 2017
While experts will tell you that your kitchen is the heart of your home, this is only true when it is appealing and functional. Otherwise, your kitchen ends up being a place that you and your family will only spend time when required. No matter how outdated your kitchen may be you can make improvements with a well-thought and tasteful kitchen remodel to fit your budget.
---
Cost Overview
The average cost of a new kitchen can very well cost upwards of thousands of dollars. According to national reports, the average cost of a new kitchen ranges anywhere from $12,572 to $33,218, while the national average sits at $21,867. Low-end kitchen remodels boast as little as $4,000 while high-end kitchen remodels surpass an impressive $50,000. In areas of our country that hold higher costs of living, new kitchen remodels costs can land anywhere from 10 - 15 percent than our nation's average.
---
If you're wondering what exactly makes up these kitchen remodel costs, here's an estimated breakdown:
Hardware and cabinetry: 29%
Installation: 17%
Ventilation and appliances: 14%
Countertops: 10%
Flooring: 7%
Ceilings and wall: 5%
Windows and doors: 4%
Plumbing and faucets: 4%
Design fees: 4%
Other: 1%
Seeing all of the things that go into a kitchen remodel costs can be overwhelming, but you will be happy to discover that targeted cuts can help you save big on your renovation costs.
For example, custom cabinetry alone takes up almost 30% of the budget, but you can save by placing your investments into stock cabinets instead. You can also handle some aspects of the replacements and installations yourself, while the job itself could be broken up into smaller projects overtime.
---
---
Levels of Remodel (10k – 15k, 15k-30k)
Whether you are updating for the purpose of selling your home, or striving for a more functional and appealing space for yourself, a kitchen remodel can be crafted to fit any budget, kitchen design, or lifestyle needs. Whether you're shooting for a low-cost update or a comprehensive remodel, you'll want to integrate specific features that will help you get a return on your investment.
---
Low-End Remodel
---
---
A low-end kitchen remodel may sound like a dream come true, but it is easily attainable with the right focus and attitude. The average cost of remodeling a small kitchen is between $5,000 and $15,000, depending on all that it is you need to repair, install or upgrade.
In this remodel, your focus is typically on updating what you have, and spending as little as possible while creating the biggest impact. The motto here is only replacing what is absolutely necessary and DIY-ing as much as you can yourself.
Some projects involved in a low-end kitchen remodel include:
Re-staining or painting your cabinets
Updating drawers and cabinets with new hardware
Installing stock cabinets
Painting the walls and ceilings
Upgrading your kitchen sink and faucet
Installing energy efficient lighting
---
Mid-Range Remodel
---
---
While you may not have the funds to build an entirely new kitchen from scratch, you might have some savings set aside for a few bigger changes. With $15,000 to $30,000 you could have the perfect project to bring your kitchen into the 21st century.
To save the most money in a mid-range remodel, focus on using standard materials, and splurging in just a few specific areas. Think about which features you want to stand out and what doesn't matter as much.
Some projects involved in a mid-range kitchen remodel include:
Installing custom cabinets
Replacing your countertops with high quality materials (metal, wood, stone)
Installing a few high-end daily kitchen appliances
Building a kitchen island
Replacing the floor
Adding recessed lighting
---
High-End Remodel
---
---
If you are wondering what exactly constitutes a high-end remodel, think custom kitchen layouts and accessories. Luxury appliances, custom products, and professional labor are all ingredients in a high-end kitchen update. Don't be surprised if your grand total comes to $30,000 or more, depending on where you live and the size of your kitchen. If you make the right kinds of choices, you can see as much as 60% return on your investments.
Some projects involved in a high-end kitchen remodel include:
Installing all new high-end appliances
Having custom cabinets built to design
Installing a new faucet and sink
Adding granite or quartz countertops
Opting for additional overhead lighting
---
---
Cost Factors
When you start planning the cost of your kitchen remodel, you'll want to keep a couple of things in mind. Budget, longevity, and neighborhood trends are all important factors to be considered before outlining a kitchen renovation plan.
---
Budget
This should be the homeowner's number one concern when it comes to their kitchen remodel. This will shape major decisions of each remodel such as materials, how much professional help is needed, and of course – what the final product will look like. If you don't budget correctly, you could end up with a half-finished kitchen and no funds. Be sure to include 10% for unexpected problems such as electrical, plumbing, or structural issues.
---
Longevity
Your next consideration is how long you are going to live in your home. If you plan to sell your home immediately after the remodel, you don't want to spend too much money on it. The National Kitchen and Bath Association recommends that homeowners spend no more on their kitchen renovation than 5 to 15 percent of the market value of their home.
---
Neighborhood
This tip applies more to sellers than lifetime homeowners, but the style and trends of the neighborhood that you live in should reflect the kinds of changes you decide to make. Your kitchen should not be significantly overstated or understated than others in your neighborhood. Ideally, you want a kitchen renovation that complements your home and brings out the best qualities in your kitchen.
---
---
What Goes into a Remodel?
Now that you've considered some of the different cost factors, you probably want to know exactly what elements make up your kitchen renovation, and how that might influence your overall new kitchen costs. Let's explore some of these elements.
---
Kitchen Countertops
Your countertops play a significant role in the usability and feel of your kitchen. Materials should be chosen not only on looks, but what functions the best. Get ready for a plethora of options and huge price swings depending on the quality of your chosen material:
---
Kitchen Cabinets
Other than countertops, kitchen cabinets are the most popular kitchen renovation update or remodel. Cabinets are easily your first impression when you walk into any room, because they are typically at eye level. If your cabinets are damaged or outdated, potential buyers will become uninterested. The cost of new cabinets varies based on stock or custom cabinet options. Kitchen cabinet options typically include:
Stock cabinets
Semi-custom cabinets
Refaced cabinets
Refinished cabinets
---
---
Appliances
While investing in a quality refrigerator, dishwasher, and stove can quickly drive up your costs, skimping here is not going to help you raise your home's value if your objective it so resell. Appliance cost is going to range depending on budget and energy factors. Standard appliance options include:
EnergyStar appliances
Custom built-in appliances
High-end store bought appliances
Budget outlet appliances
---
Flooring
When it comes to flooring, your biggest factors are going to be your square footage and material. Cost-effective options such as linoleum and vinyl are not going to add very much in terms of value to your kitchen compared to more expensive options such as wood, granite, and tile. Although keep in mind, the more expensive the flooring material typically the more difficult to maintain. Flooring options include:
Laminate
Linoleum
Ceramic tile
Stone
---
Plumbing, Electrical, Gas
When you take on a kitchen remodel, it's important to avoid all plumbing, electrical, and gas elements if possible. Otherwise, you might end up paying even more in installing pipes and gas lines. Plus you could end up doing some serious damage to the structure of your home. Consider any upgrades to these elements while you have everything torn out, and don't attempt to make any plumbing, electrical, or gas changes on your own.
---
---
What to Expect and How to Prepare for your Kitchen Remodel
Even with the clearest goals in mind, your kitchen renovation is no small feat. In order to set your expectations clear you will want to develop an organized and realistic plan of action.
Get a professional. Even if you plan on doing a lot of the work yourself, it's a good idea to have a professional kitchen-remodeling contractor on your side, especially if there are any structural, plumbing, or electrical changes involved. They can help you identify areas of concern, professional pointers, and guidance for a successful finish.
Expect the unexpected. Unless you built your house, you never really know what you're going to find behind that wall or under those floorboards, not to mention the chance of a pipe breaking, mold discoveries, or other problems that could arise. Set aside up to 20 percent of your project total to account for these types of surprises and turn of events.
Save money by DIY. Other than materials, your labor is going to be your largest kitchen remodel cost. While some projects only a contractor can accomplish, there might be a lot smaller projects you can easily tackle yourself. Get with your contractor and discuss what you can do to help with the remodel and save.
Set a timeline and floor plan. Before you start ripping out cabinets and floors, you'll want to have an idea of what the finished product will look like along with a schedule. Get your contractor to draw up a floor plan and a timeline - include this in a signed contract.
Get a contract. This is crucial to the success of your kitchen remodel. If your contractor doesn't sign a contract, he or she may not be liable for misunderstandings and mistakes.
---
How Great Pros Can Help
Your kitchen remodel is a big job, and you shouldn't have to tackle it alone. If you want to accomplish your dream kitchen, get in contact with qualified and licensed professionals in your area by filling out our 2-minute-questionnaire. Our professionals here at Great Pros can help you compare profiles and receive free quotes to get the best price on your upcoming project.
---